How Asil Nadir stole Polly Peck's millions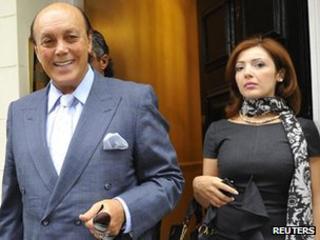 A jury at the Old Bailey has found former tycoon Asil Nadir guilty of stealing millions of pounds from his own companies, bringing to an end one of the most controversial episodes in the history of the Serious Fraud Office - and drawing to an abrupt close the tale of a larger-than-life businessman.
More than 20 years ago, City funds and small investors were shocked as one of the safest bets on the London Stock Exchange imploded.
The share price of Polly Peck International (PPI), a global trading conglomerate, collapsed after the Serious Fraud Office (SFO) raided premises at the heart of the empire built by its apparently exceptional chief, Asil Nadir.
Nadir, a 71-year-old British citizen of Turkish-Cypriot background, protested his innocence but then fled the country claiming he could not get a fair hearing.
He returned 17 years later, in 2010, saying he wanted to clear his name. Instead, after a mammoth and at times bewilderingly complex trial, a jury has decided he is a thief.
He has been found guilty of 10 thefts from Polly Peck totalling £29m, and cleared of a further three charges concerning about £5m.
Asil Nadir built PPI out of very little. His rise and rise in the 1980s began with a remarkably astute investment in a small textile company, then simply called Polly Peck.
He used the company as a vehicle to build a trading empire across Europe - adding "International" to its name along the way.
At the company's height, Nadir and PPI owned what was once one of the biggest electronics companies in Europe, hotels and leisure complexes and the global fruit brand, Del Monte.
Each quarter he posted stratospheric profits and in the get-rich-quick atmosphere of late-1980s Britain, everyone wanted a piece of PPI.
By the end of the decade, it was worth £2bn, making it a FTSE 100 player. Some investors had seen returns of more than 1,000 times their original stake but very few of them got out before PPI came crashing down.
On 19 September 1990, the Serious Fraud Office raided one of Asil Nadir's plush management companies in Mayfair.
The next day, amid rumours and speculation, PPI's share price plummeted. The conglomerate collapsed completely the following year.
Bank transfers
The Serious Fraud Office originally began investigating Nadir by looking at claims of insider dealing - a line of investigation that it later dropped. Instead, it said it found evidence that Nadir had stolen millions of pounds from PPI that belonged to its shareholders.
Nadir exercised an extremely high level of control over PPI's finances. He had the power to move money without requiring a counter-signature from another director.
The prosecution told the jury that from August 1987 onwards, Nadir, assisted by close confidants, used more than 50 transfers to steal approximately £150m from PPI. The businessman accepted in court that the majority of the transfers were on his instructions.
Prosecutors claimed that £34m in cash in the 13 specimen charges they put before the jury had been withdrawn in London and moved through other accounts in Switzerland, the Channel Islands, a PPI subsidiary called Unipac and also Kibris, a bank in northern Cyprus controlled by Nadir.
The court heard Nadir used some of the cash to protect PPI's stock-market valuation by buying its own shares. The largest single chunk of the missing £150m went to margin lenders, a sophisticated form of borrowing to buy shares, tied to the value of the stock.
But ultimately, said the prosecution, it went to Nadir's personal interests, including companies or trusts controlled either by himself, his family or close associates.
What the prosecution said and what the defence said...
1. The prosecution alleged that Asil Nadir stole £150m* from Polly Peck
£150m
*Includes some transfers in dollars which have been converted to sterling at a representative exchange rate for 1990 of $1.75
2. Funds were moved between banks and companies outside the UK
Industrial Bank of Kibris
3. Money moves beyond the control of Polly Peck as it is divided between investments, companies and accounts belonging to Mr Nadir, his family and friends, listed below.
Margin
lenders
Asil Nadir
companies
Polly Peck
shares
Nadir
family trusts
Asil Nadir
and relations
Other
shares
Safiye Nadir
(mother)
Other
4. The defence said equal amounts were paid back in Turkish lira from northern Cyprus
Paid back into PPI subsidiaries, in suitcases of cash
Ultimately Nadir was found guilty of stealing £29m and cleared of three charges
Clare Whitaker, of the Serious Fraud Office, said prosecutors suspected the cash helped fund pet projects that included racehorses, antiques, a newspaper group and property.
Nadir had a stately home in Rutland, called Burley on the Hill which he intended to develop into a leisure complex and golf course. At another country mansion, Baggrave Hall in Leicestershire, the tycoon had a farm, where he invested in prize cattle and sheep.
"He obviously had a very affluent lifestyle," Ms Whitaker said.
"The intention was always to remove the monies, to cover up the tracks that nobody would ever find out, and he succeeded in doing that over a period of years," she said.
The prosecution told the jury that the PPI board were thwarted at every turn when they tried to work out what Nadir was doing.
In 1993, as Asil Nadir's trial approached, he asked a pilot friend to help him get out of the UK. He slipped out of London, carrying a wig and a false moustache as a precaution. He boarded a plane at a Dorset airfield and was soon on his way to Turkish-controlled northern Cyprus, from where he could not be extradited.
Long-awaited return
So why did he return all those years later?
Asil Nadir told the BBC he wanted to clear his name. The tycoon denied theft and alleged he had been the victim of "gross prosecutorial misconduct of the gravest kind". He accused the SFO of causing the collapse of his empire.
"It was important for my peace of mind and my health to come and make sure that this injustice that has been practised on me for so many years was cleared up," he said.
"I was innocent in 1990, innocent today. Injustice, and the pain it inflicts on a person, you can never remove it unless you find some justice and I will continue to do so."
Asil Nadir's defence was that for every withdrawal in London, there had already been an equal and balancing deposit at the northern Cyprus end of his empire.
Under cross-examination, he was repeatedly asked for evidence of these deposits. The jury heard that suitcases of Turkish lira were taken from his mother's home and ferried to banks. Nadir said that it was local cultural practice to keep vast sums of cash at home.
The prosecution said it was implausible. He would have needed banknotes 300 times the height of Nelson's Column to balance the books of his empire.
The Asil Nadir case remains one of the most controversial chapters in the history of the SFO.
In 2011 Asil Nadir's defence team tried to stop the trial by arguing that the original case controller prejudiced the case by passing around the tycoon's private legal correspondence and failing to tell the attorney general about this.
Mr Justice Holroyde said the SFO lawyer had been untruthful in her evidence on this specific point - but that her actions at the time had not affected the fairness of the trial.
Clare Whitaker, of the SFO, defended the decision to bring the prosecution.
"The collapse of PPI was a very serious matter for the City of London," she said.
"It was always a serious crime, and the fact that 20 years has passed does not mean it is no longer a serious crime. There was sufficient evidence, and it would always be in the public interest to prosecute serious economic crime of this sort."