From Broken Britain to Team GB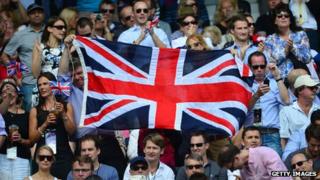 A year ago, the prime minister despaired at the country's "moral collapse", as flames lit up the night sky amid riots in north and east London.
Twelve months on, David Cameron talks of an inspirational country that "makes people feel proud to be British", as the Olympic flame burns bright just a few miles from where the disturbances began.
It is a neat juxtaposition: from national soul-searching to national celebration in exactly 12 months; from Broken Britain to Team GB.
But there is a difference between mood and character, just as there is a difference between weather and climate. It would be a mistake to draw too many conclusions from either England's riots or London 2012 when it comes to defining ourselves.
The disturbances were shocking and demanded we consider the root social causes of the criminality. But as much as the looting and the arson, people will also remember the way communities came together in the days afterwards.
The shock of the riots was that they were out of character. Britain doesn't behave like that. The public response was to get back to normal, to revert to the mean, to put the country back on its default setting.
So volunteers rolled up their sleeves and helped clear up the mess. The sentiment was familiar: keep calm and carry on.
The great joy of these games has been that they seem out of character. We don't win six gold medals in a single day - three of them in the athletics stadium. We tend to see ourselves as sporting also-rans, the archetypal plucky Brit giving everything and finishing fourth.
We have become so used to steeling ourselves for mediocrity that it is tempting to see something almost un-British in our ability this summer to translate effort into reward.
But when the games are over and we reconnect with the economic and social challenges of our age, how much extra confidence will we be able to take from gold in canoe slalom? Does Olympic success make us a stronger nation?
As with the riots, the mood will probably change as quickly as the weather over the Olympic Park this week. The question is whether hosting a wonderful games can alter our national character.
And, you know, I think it just might - a little.
Sometimes countries, like people, need a bit of therapy to boost their self-esteem. This Olympics is acting like a motivational trainer, urging us to believe in ourselves.
Britain's island mentality means we can be quite introspective, but the games are all about comparing ourselves internationally. We are amazed when we look at the medal table and see Team GB in third place behind China and the USA. Can that be right?
London 2012 is making us realise that, you know, we are not that bad. In fact, when we put our minds to it, we can be pretty good. The games are bringing out the best in us.
The last week or so has given Britain the excuse to look itself in context. We won't win gold every day but nor is the country on the brink of a social abyss. Not every young adult has the talent and discipline of Jessica Ennis or Mo Farah, but nor are they epitomised by the wild looters and arsonists who roamed city streets last summer.
Britain is a good place. And believing that might just help us when real life resumes.