Rain and flood alerts in northern England and Scotland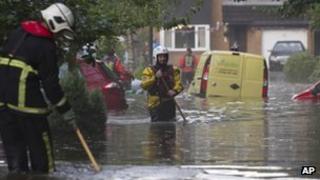 Warnings of heavy rain and flood alerts have been issued for parts of northern England and Scotland.
The Scottish Environment Protection Agency says 10 areas face possible floods including Dumfries and Galloway, the Borders and Edinburgh and Lothians.
Five areas are on flood alert in England, four in the South West.
It comes after flooding and disruption in Wales, south-west and northern England and the Scottish borders on Sunday.
The Met Office has issued an orange "be prepared" warning for heavy rain in north east England and Yorkshire and the Humber area. A yellow warning for rain - which tells people to be aware - is in force for north-west England and much of Scotland.
It said: "Heavy, thundery showers are expected to develop again during Monday. The public should be aware of the risk of surface water flooding, although as always in showery conditions, some places will escape."
Latest local news, travel and weather
Meanwhile, flash flooding in Newcastle has closed the Central Motorway in the city, along with other roads, for the second time in two days.
Metro services have again been disrupted, although conditions are not as bad as they were in June when thousands of motorists were stranded in their vehicles for several hours.
And six people have been rescued from their homes after flash flooding hit the town of Galston, in East Ayrshire.
Residents living in Wallace Street and Barr Street walked to safety after a local river burst its banks.
On Sunday, six firefighters helped two people after their car became trapped in water on the A3072 at Redpost, near Bude, Cornwall.
The Scottish border town of Jedburgh was badly affected by rising waters, after the River Jed burst its banks. The town's High Street was flooded, and at least three people trapped in houses, according to Lothian and Borders Fire Brigade.
Mid and West Wales Fire Service dealt with more than 70 calls between 08:00 BST and 14:00 BST on Sunday.
The service said flash flooding in Narberth, Pembrokeshire, had affected six homes and 21 caravans, and fire boats were used to rescue some stranded motorists.
Meanwhile, West Yorkshire Fire and Rescue Service said it received 65 flood-related calls in five hours on Sunday.
One person was rescued after flood water demolished an internal wall and destroyed surrounding pavements at a house in Frizinghall, Bradford, while 10 apartments were evacuated after a basement flat was flooded in Manningham, Bradford.
Heavy rain caused flooding in Prestwich, Whitefield and Swinton, Greater Manchester and left around 100 homes damaged.
In the north-east of England, torrential downpours caused flash flooding and travel disruption around Newcastle and Tyneside.
Later, Northumbria Police said most routes in its area had been reopened but the Swing Bridge, linking Gateshead to Newcastle near the Tyne Bridge, remained closed due to debris caused by the flash flood.
The inside of Newcastle railway station was hit by flash flooding for a time, with walkways cordoned off to allow the clean up to take place.
In Cheshire, the horse racing meet at Chester Races was abandoned after the third race due to "adverse weather conditions".