London 2012: The Olympic also-rans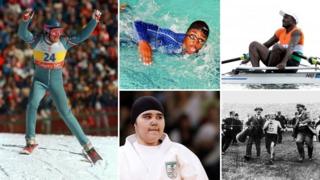 The elite athletes are racking up the golds at London 2012, but what about those who compete knowing they don't stand a chance?
Everybody admires the sacrifices a medallist makes, devoting four years of their lives, knowing milliseconds or millimetres could be the difference between gold and an agonising fourth-place finish.
But what about those athletes who go knowing they won't be anywhere near the leading pack? What if you're the lone figure trailing in a minute after everybody else?
These also-rans and no-hopers earn affection and no small measure of fame.
"I have no technique, I only rely on power," admitted Niger rower Hamadou Djibo Issaka after fighting his way over the finishing line of the men's single sculls at Eton Dorney on Friday. Issaka managed 8:39.66, leaving him miles behind the next worst competitor J Fraser-Mackenzie on 7:19.85.
Issaka the Otter, as he is now affectionately known, had some 25,000 fans on their feet, cheering him on. The 35-year-old only started rowing three months ago, practising in an old fishing boat.
In Issaka's case, Niger received an Olympic wild card - given out so all 204 National Olympic Committees can compete, even when no athlete qualifies.
Then there was 16-year-old debutant judoka, Wojdan Shaherkani - the first Saudi woman ever to compete in the Olympics. She stepped up to represent her country amid suggestions Saudi Arabia had purposefully sent weak female competitors to the Games.
Facing a heavyweight Puerto Rican 12 years her senior and far more experienced, Shaherkani lasted just one minute and 22 seconds. But the crowd roared her on nevertheless.
Saudi runner Sarah Attar had her moment in the spotlight on Wednesday, completing the 800m over 43 seconds behind the heat's winner - but with a full Olympic Stadium ovation.
"It's an incredible experience," she said after.
Marshall Islands runner Timi Garstang, for example, clocked the slowest sprint in the biggest event in athletics - finishing the men's 100m preliminary round in 12.81 seconds. The system has been changed so the slowest runners have to get through qualifying before finding themselves in a heat with Bolt or Blake.
The 25-year-old Garstang told Reuters he had no regrets: "I'm not disappointed, I guess I'd have to run a bit faster if I want to run in his [Bolt's] heat. It's a great feeling to be here."
And India's only swimmer, 20-year-old Gagan Ullalmath, went out in the first round of the 1500m freestyle event with the slowest heat time of 16:31.14.Even his personal best of 15:59.33 would have left him last by more than 10 seconds.
"I was hoping to make it to the top 16, so I could call myself a semi-finalist," says Ullalmath. "However, I actually fell ill on the day."
The also-rans are one of the guilty pleasures of any Olympics. In theory, one should politely applaud them for their effort. In practice, they can become instant cult heroes.
Ullalmath seems as happy as any of his quicker rivals.
"The crowd was amazing and stood up for me in the last 100m of the race. It was a real honour and I feel good about it.
"These Olympics have been a great chapter. When I get back to India I will start training for Brazil straight away."
The spirit of Ullalmath is, in many ways, an expression of the amateur ideal that underpinned the birth of the Olympics. Every amateur runner or swimmer or cyclist knows what it is like to race as hard as your body will allow, knowing that even a top-50 finish is out of the question.
Not everyone is in it for the medal, explains sports psychologist and performance consultant, Andy Barton.
"Only a very small proportion are aiming for gold. Most competitors have their own gold to aim for - maybe a personal best, to be in the top 50, or qualify first in their country.
"And many just want to compete. Wouldn't you take the chance?"
The crowds love the also-rans for their effort and their never-say-die attitude, but the Olympic authorities' attitude has a note of ambivalence about it.
The best example of this is the story of Eddie "the Eagle" Edwards.
"Competing in the Olympics was a dream come true," he recalls. The British ski jumper shot to fame during his last-place performance at the 1988 Winter Olympics in Calgary.
"The support was a tremendous promotion for sport because it thrust attention on ski jumping, which suddenly went from page 57 to one [in the UK].
"But I ended up getting more attention than the guy who won - a few officials really didn't like that."
The response was swift. The International Olympic Committee changed the rules so only those above a certain Olympic standard could take part in the future.
"I was effectively forced into retirement," says Edwards. "But I was just exemplifying the true Olympic spirit of taking part as an amateur athlete."
Yet at the same time, the Olympic wild cards ensure there are always no-hopers.
Everybody remembers Eric Moussambani, aka Eric the Eel, from the 2000 Olympics and his 100m freestyle time of 1:52.72. But anyone tempted to chuckle should also remember that his time was a personal best and a national record.
And he came from a country without the lavish training facilities and programmes of the swimming superpowers.
Who can fail to be moved by the story of Philip Boit, the first Kenyan to compete at the Winter Olympics? He came last in the cross country skiing 10km classic in 1998. The winner, cross country legend Bjørn Erlend Dæhlie, delayed receiving his medal so he could embrace Boit at the finish. Boit responded by naming his son Dæhlie.
It's the sheer bloody-mindedness of some competitors that inspires.
For many, the famous image of Italian marathon runner Dorando Pietri struggling across the line in 1908 sums up the spirit of the Olympics. Despite leading, he endured a near-collapse and had to be helped across the line, prompting his disqualification.
"He got into trouble and ran in stumbling and falling over," says Olympic historian Philip Barker. Officials ended up helping him over the line, which meant he lost.
"But everybody knew about Dorando from Italy. The little bloke with a moustache - he looked a bit like Manuel from Fawlty Towers. Even back then people loved the plucky loser."
Of course, Pietri was a superb athlete who had a bit of a lapse. The real also-rans make us feel like they are representing the ordinary fans.
"Someone like Eddie the Eagle is normal," says Barker. "You could meet him down your local. People embraced him because he was the everyman doing an Olympic sport. Eddie used to practise ski jumping on the roof.
"He lost but also held the British record for ski jumping. Really and truly he deserves our respect."
Unlike Edwards, and the Jamaican bobsled team of the 1988 Winter Olympics, most of the true also-rans are from developing nations with limited budgets for sport.
And remember, the no-hopers only have no hope against the best. Many of them are great athletes by amateur standards. Boit was originally an 800m runner with a reported personal best of 1:46.06.
That's outside the medals but probably a fair bit better than anyone tempted to laugh at an also-ran.