Newspaper review: Team GB's 'girl power' celebrated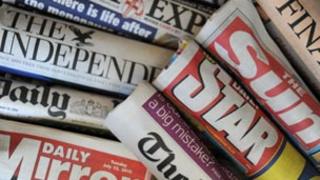 For a third day in a row, the headline writers are cheerleaders for British success at the Olympics.
"Here Come The Girls", says the Daily Mirror, picturing the female rowers and cyclists who won gold. "Girl Power", says the Daily Star.
There is praise for the cyclist, Victoria Pendleton, or "Queen Victoria" as the Daily Telegraph calls her.
For the Guardian, she's "Queen of the Velodrome", and "Pedal to the Medals" is the Sun's take on her achievement.
'Dare to dream'
While the front pages concentrate on the medal winners, inside they have already begun to reflect on the Games.
An editorial in the Times says "the location has been wonderful and the action a joy", and concludes "these games are already passing in legend".
The Daily Telegraph believes that the games have not just raised the national mood, they have transformed it.
It says the greatest Olympic legacy would be "the rebirth of a Britain that dares to dream".
Anxious day
The weight of expectation is now heaped on the shoulders of the heptathlete, Jessica Ennis.
The Independent, which fills its front page with her photo, says it is "her day of reckoning".
For the Daily Star, "Ennis is Jess Amazin'", as she leads the field with four of her seven events completed.
In the Times, the paper's chief sports writer, Simon Barnes, warns that there will be "a long and anxious day ahead for all of us".
Dark threats
Early August is, says the Independent, a strange time for the prime minister to announce a major policy shift.
But he is widely expected to do exactly that, by dropping plans to reform the House of Lords.
The Guardian says it will be a bitter blow for Nick Clegg, and reports "dark threats of consequences".
The Daily Mail believes the Lords reforms are fatally flawed, and calls on Mr Clegg to give a statesmanlike response and put his plans on ice.