Empty seats still problem, British Olympic Association says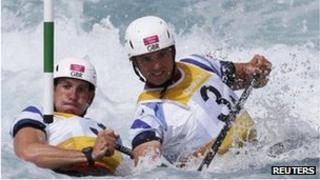 The problem of empty seats at the London Games still "has to be sorted", the British Olympic Association says.
BOA chief Lord Moynihan said it was "unfair on Team GB not to have maximum support" and a "major take-away issue" for the organisers of future Olympics.
London 2012 said venues were seeing a "very different situation" from the start of the Games.
There were two more gold medals for GB after wins in the two-man canoe slalom and shooting.
Etienne Stott and Tim Baillie won the canoeing event, with Team GB's David Florence and Richard Hounslow taking the silver medal. Peter Wilson won the other gold in the men's double trap at the Royal Artillery Barracks.
There was also a silver medal for Team GB's Gemma Gibbons in the 78kg judo final.
And there was a third silver of the day for Britain, after the men's lightweight coxless fours - Richard and Peter Chambers, Rob Williams and Chris Bartley - were edged out by South Africa at Eton Dorney.
The mother of Richard and Peter Chambers said she was "completely delighted" by the result after a "ridiculously tough race."
"It was amazing, I am so proud," Gillian Chambers, from Coleraine, added. "I hope they are not disappointed. At that level that achievement is just too fantastic to consider it a disappointment."
Team GB will be looking to cycling again to add further to its tally of medals.
Sir Chris Hoy and Victoria Pendleton are two of Team GB's main medal hopes on day six of the Games, as action switches to the velodrome following the success of Bradley Wiggins and Chris Froome in the time trials on Wednesday.
In other developments:
Lord Moynihan spoke of a "tunnel of sound" made by the noise of the cheering supporters during the rowing.
He said: "Our rowers have really benefited from that atmosphere down there and, of course, you can replicate that over 26 sports."
He added: "Every empty seat disappoints me because we need every seat filled to radiate the support from the British public, who are passionately interested in sport and absolutely 100% behind Team GB."
Lord Moynihan also praised the performance of rowers Glover and Stanning and their coach Robin Williams and said more funding should be made available to boost home-grown talent.
"One thing I have been very conscious of over the last five, six years is to strengthen the level of coaching support to Team GB as a whole," he said.
Pictures of rows of empty seats have angered members of the public and prompted Games organisers to appeal to sports federations to return tickets that accredited spectators were failing to use.
In response to Lord Moynihan's comments, London 2012 spokesman Jackie Brock-Doyle said it was "quite successfully" dealing with the problem. Seats had been reallocated and volunteers and the military on security duties were being allowed to watch the sport to help fill venues.
More tickets, including a total of 11,000 for the athletics, have now been released for sale online, she added.
She said organisers were also having "quite detailed conversations" with the International Association of Athletics Federation on their accredited seating in the stadium, which starts on Friday.
Addressing criticism that the ticket website was struggling with demand, she urged people to "hang in there, be patient, persevere", and emphasised that "thousands of people" were buying tickets every day.
But Ms Brock-Doyle said organisers would not "recycle" tickets for the athletics as "people will tend to stay for the whole thing".
Wimbledon, Horse Guards Parade and the Olympic Park area were all expected to be very busy again on Thursday, BBC London said.
Friday is expected to be extremely busy at the park and on London's transport system as the stadium opens for the first time during the Games.
An additional 80,000 spectators are expected for Friday's athletics competition, with Saturday also expected to be very busy, London 2012 organisers said.
Access to the shopping centre next to the park - Westfield Stratford - will be restricted between 10:30 BST and 17:00 BST on Saturday, with only ticketholders, accredited staff and people invited to hospitality allowed to pass through it to enter the park.
After British podium successes on Wednesday, postage stamps of Team GB's first 2012 gold medallists - Glover and Stanning - as well as Wiggins, have gone on sale.
Tour de France winner Wiggins became the most decorated Olympian in British history with his gold medal, which brought his tally to seven medals overall.