Civil partnerships increase by 6.4% says ONS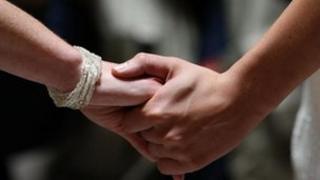 The number of civil partnerships in the UK has risen, according to provisional figures released by the Office for National Statistics.
There were 6,795 such partnerships in 2011, an increase of 6.4% since 2010.
And the provisional number of civil partnership dissolutions granted in the UK rose by 28.7% over the same period, to 672.
Civil partnerships were introduced in 2005 to give same-sex couples the same legal rights as married couples.
However, the law does not allow such unions to be referred to as marriages.
A dissolution is a legal end to such a partnership.
The majority of dissolutions last year - 64.6% - were to female couples.
In 2011, there were slightly more male unions - 50.7% - than female.
But the previous year there had been slightly more partnerships between women - 51.2% - than men.
The ONS said: "Initially the numbers of males forming civil partnerships were much higher than females. Since 2007, the numbers of male and female civil partnerships have been converging.
"This reflects examples of other European countries that have seen a majority of early civil partnerships being formed by male couples followed by more converged figures."
The number of civil partnerships formed since the legislation came into force stood at 53,417 by the end of last year.
The figure of 106,834 civil partners far exceeds a 2004 government estimate that suggested a likely take-up of between 11,000 and 22,000 people in civil partnerships in Britain by 2010.
Gay marriage
London has been the most popular region in England and Wales to register a civil partnership in every year since the legislation was introduced.
Last year more than a quarter of civil partnerships - 25.5% - were in the city.
The London borough of Westminster had 219 male and 56 female partnerships, making it the local authority with the highest number of civil partnership registrations last year.
The next highest number could be found in Brighton and Hove, which had 121 male and 101 female partnerships.
The average age of men forming a civil partnership in the UK in 2011 was 40.
And the average age for women forming a partnership was 38.
Following the release of the ONS figures, a spokesman for gay rights campaign group Stonewall said: "It is evidently fantastic news that so many people have entered civil partnerships and that they have proved so popular."
Scotland could become the first part of the UK to introduce gay marriage after the SNP government recently announced plans to make the change.
Ministers confirmed they would bring forward a bill on the issue, indicating the earliest ceremonies could take place by the start of 2015.
Last month, Downing Street defended plans to change the status of civil ceremonies to allow gay and lesbian couples in England and Wales to get married.
It said it was confident safeguards to stop religious organisations being forced to take part in services would not be overturned by European courts.
Ministers plan to pass the law by 2015.
However, the Church of England has said the move would "alter the intrinsic nature of marriage as the union of a man and a woman".
In its 11 June response to a consultation on the issue, the Church of England said plans to exempt religious organisations from performing gay marriages would be unlikely to survive legal challenges in domestic and European courts.
However, Home Secretary Theresa May has said she believes ministers can create safeguards to protect the concerns expressed by religious groups.
There are currently no plans for same-sex marriage legislation in Northern Ireland.