Ye Shiwen: Chinese swimmer denies doping at Olympics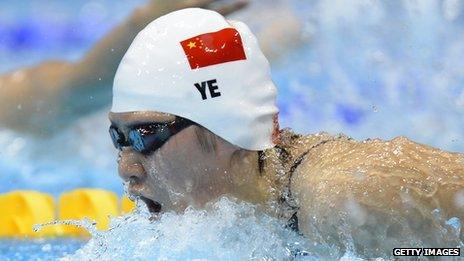 Chinese gold medallist swimmer Ye Shiwen, 16, has denied taking drugs to enhance her performance, saying there was "no problem with doping".
A US coach earlier said Ye's record-breaking performance in Saturday's 400m individual medley was "disturbing".
But British Olympics chief Lord Moynihan said she was "clean" and "deserves recognition for her talent".
Elsewhere, police have arrested a teenager after an allegedly offensive tweet was sent to UK diver Tom Daley.
Team GB - yet to secure its first gold of the Games - will be going for medals in events including canoeing, gymnastics, diving and equestrian on Tuesday.
Zara Phillips, the Queen's granddaughter, joins fellow riders from Team GB in the showjumping finale of the eventing competition, which got under way at 10:30 BST. The team goes into the final day in silver medal position.
Ye Shiwen took seconds off her personal best to break the world record and win a gold medal in the 400m medley on Saturday, swimming faster in the last 50m than the winner of the men's event.
There is no evidence against her and all medal winners are drug-tested.
John Leonard - the executive director of the World Swimming Coaches Association - said her performance was "unbelievable".
But Ye Shiwen said: "There is no problem with doping. The Chinese team has a firm policy so there is no problem with that."
British Olympic Association chairman Lord Moynihan said the World Anti-Doping Agency (Wada) was "on top of the game".
"She's been through Wada's programme and she's clean. That's the end of the story. Ye Shiwen deserves recognition for her talent," he told a press conference.
And International Olympic Committee communications director Mark Adams said: "We have a very strong drugs testing programme. If there are cheats then we will catch them."
On Monday, Team GB's men's gymnasts won bronze - the country's first team medal in the sport in 100 years.
They had initially won silver, but were demoted after fourth-place Japan successfully challenged the result, moving up to silver.
UK Sport chief executive Liz Nicoll said Team GB had made a good start.
"We want more medals than Beijing so at least 48 medals in at least 12 sports, that's the official target for the outcome from these games," she told BBC Newsnight.
"Three fantastic medals, the bronze medal from the men's team gymnastics was outstanding, that's a moment in history, that was not predicted."
Britain's female gymnastics team will go for gold at 16:30 BST in the team final at the North Greenwich Arena. It is the first time Team GB's women have qualified since 1984.
Games organisers Locog put 3,800 extra unused "accredited" seats on sale on Monday night across 30 sessions and 15 sports. Almost all sold out, Locog said.
It follows criticism over empty seats which had been allocated to sports federations.
Locog communications director Jackie Brock-Doyle said the process of selling unused tickets would continue to take place on a day-by-day basis.
The tickets can be bought only online, before they are picked up at collection points in venues for pre-purchased tickets.
BBC Olympics correspondent James Pearce says the best advice on securing seats is to stay up late because tickets are being put on the London 2012 ticketing site late at night or early in the morning.
Olympic venues across London are predicted to be very busy on Tuesday, with events going on at the ExCel centre in London's Docklands, Wembley, the Olympic Park and at Lords.
Congestion is expected on the Olympic Route Network, with drivers being warned to avoid roads around the venues.
BBC weather forecasters said temperatures would dip on Tuesday, with rain expected through the day across the UK.
Related Internet Links
The BBC is not responsible for the content of external sites.