Homelessness 'rose 25% in England over past three years'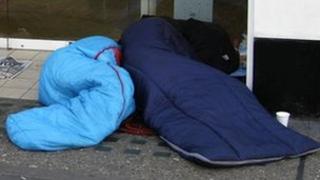 The number of households declared in need of emergency accommodation in England rose by about 25% over the past three years, new figures suggest.
SSentif said some 50,290 families and individuals were classed as homeless in 2011/12, up from 40,020 in 2009/10.
But the data company said spending on tackling homelessness had fallen from £213.7m to £199.8m over that period.
Ministers said the figures were "narrow and misleading" with homelessness now lower than for 28 of the last 30 years.
"We have maintained funding for homelessness grants at 2010-11 levels with £400m over the next four years, and on top of that we announced an additional £70m investment over the last year," a spokesman for the Department for Communities and Local Government said.
According to SSentif's figures, 6,120 more households were left homeless in 2011-12 compared to 2009-10.
It said the highest percentage increase was in the East of England while the North East was the only region which saw a fall in the number of households declared homeless.
SSentif's managing director Judy Aldred said some of the results for specific councils had been "quite shocking".
"By analysing the data at council level we were able to highlight some areas that are showing much greater increases than the national average," she said.
"In Birmingham, where homelessness increased 25% from 2009-10 to 2010-11, spend dropped from £7.8m to £5.5mn (29%)."
Local housing authorities are legally obliged to provide emergency housing for "priority need" groups without a home, such as households with dependent children.