BBC defends Olympics cycling coverage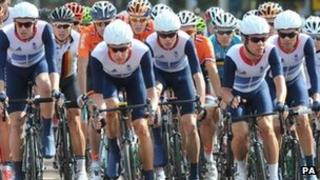 The BBC has defended its coverage of the men's Olympics road race after a backlash from cycling fans.
Viewers took to Twitter to complain there were not enough time checks or captions and positions were unclear.
Paracycling world champion Colin Lynch said cycling "usually has much better coverage and commentary" and urged newcomers: "Don't be put off."
The BBC said the pictures were provided by the Olympics organisers to whom it had "raised our concerns".
The corporation said any figures on complaints would not be available until Monday.
Lynch, who will take part in the Paralympics, tweeted: "Olympic TV coverage of cycling is poor compared to pro events. No time gaps and lack of info in general."
There were also complaints about an inability of commentators to identify riders.
Huffington Post blogger Gemma Wright complained about "wayward commentary", "farcical comments" at the finishing line and a lack of information about time gaps.
"The commentators were having to ask for footage to be shown and what they were discussing was, more often than not, not what was on the screen," she added.
The British cycling team, including hotly-tipped Mark Cavendish, missed out on taking a medal in the race.
One viewer tweeted: "Apart from the obvious disappointment for #teamGB in the cycling that was shockingly bad coverage by the BBC. Massive lack of information."
And another complained: "Horrible BBC coverage of the Olympic cycling road race. Erratic time splits, wrong names and inaccurate position calls. Frustrating."
The BBC said in a statement that host broadcaster OBS provided pictures to all global rights holders.
"We have raised our concerns with OBS who have explained that there were GPS problems with the Locog-supplied timing graphics which resulted in a lack of information for the commentary teams," it added.
The statement said OBS had assured the BBC that everything possible had been done to resolve the problems for Sunday's women's road race, which began at 12:00 BST.
During the race, BBC Sport presenter Jake Humphrey tweeted: "For those asking about more on-screen stats, graphics and info. None of it in the BBC control, we just take pictures provided to whole world."
His BBC colleague Gary Lineker tweeted: "This is the Olympics. The coverage is from a pool of broadcasters from across the world. I'm afraid that's how it is regardless of who hosts."
And the BBC's London 2012 director, Roger Mosey, tweeted during the race: "On road cycling, the BBC team shares the frustration about lack of graphics/info from the organisers."