Army equipment being removed from Afghanistan - Hammond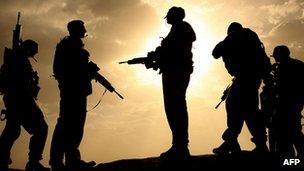 Defence Secretary Philip Hammond has said military equipment is being removed from Afghanistan, as British troops prepare to withdraw by 2014.
The Army is "working hard" on its withdrawal plan, and the pace could quicken if allies, including the US, bring forward their exit plans.
An audit is under way of the £4bn worth of sophisticated military hardware and logistical back-up in the country.
David Cameron says the UK will stay committed to Afghanistan after 2014.
Five hundred UK troops are due to be withdrawn from Helmand province this year, leaving 9,000.
Mr Hammond told the BBC Radio 4's World at One programme that unused equipment was already being "routinely" removed from the country.
"It is a big challenge. We've got £4bn worth of kit in theatre - we're already on to it, the Army is already working hard on the extraction plan," he said.
Much of the equipment is being removed from the country through Pakistan.
Conservative MP Adam Holloway said the withdrawal could only be achieved by paying off local people, and the Taliban would cash in on the process.
But Mr Hammond said: "We already use local contractors extensively in Afghanistan, as do the Americans, and we have robust mechanisms in place to ensure that these contractors are properly vetted.
"But Afghanistan is a very complex and in some places very chaotic society, and it would be unrealistic to suggest that not one penny of the money we spend on getting stuff in and out of Afghanistan gets into the hands of people who are sympathetic to the Taliban."
He also said he could not "absolutely guarantee" none of the equipment would fall into the hands of those associated with Taliban.
"It would be wrong to say that, as we undertake this huge logistical exercise, there won't be some occasions when something goes wrong," he said.
The defence secretary said it was important that the withdrawal from Afghanistan was carried out "in tandem" with the United States and other Nato allies.
It is important to "leave behind a fitting legacy of the sacrifice that so many British service people have made in Afghanistan", he said.
And he said if they pull their forces out more quickly, the British pattern for bringing combat troops home by 2014 would reflect that.
"We don't want to be left out on a limb," he said.
"If our allies are drawing down quickly then we will look to draw down on a pattern that reflects that."
But he said it also depended on the "security situation on the ground".
Last week Mr Cameron held talks in Kabul with the Afghan President, Hamid Karzai, and the Prime Minister of Pakistan, Raja Pervez Ashraf.
Mr Cameron said after the meeting Britain would remain committed to Afghanistan after combat troops come home in 2014, and that the Taliban should not think that they could "wait it out".
He said the pull-out would be carried out "in a sensible, ordered and practical way".