Dairy farmers protest ahead of supermarket talks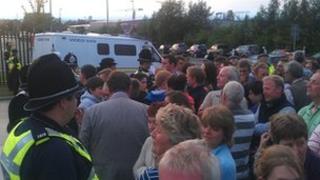 Dairy farmers have continued protests against declining payments to milk producers, ahead of talks between the farming minister and some supermarkets.
Hundreds of farmers have blockaded processing plants in Leeds, Shropshire and Leicestershire.
Jim Paice will meet Iceland, Co-op and Morrisons representatives.
The National Farmers Union says cuts in the price paid to suppliers, combined with rising feed costs, could force hundreds of farmers out of business.
Last week, Mr Paice chaired a meeting between the NFU and industry body Dairy UK.
It resulted in a draft agreement with the processors relating to a voluntary code of practice designed to give farmers more bargaining power.
But farmers remain concerned at reductions of up to 2p per litre in the amount they receive from major milk processors, which are set to come in from 1 August and follow cuts earlier in the year.
Processors say the price of cream on global markets has fallen over the past year - from £1,800 per tonne in June 2011 to £1,020 in June 2012 - and the drop must be reflected in the price they pay to UK farmers.
Premiums raised
The minister will ask the supermarkets to think about their contribution to long-term investment in the dairy industry, says BBC political correspondent Alan Soady.
It is understood the minister will suggest the supermarkets source more of the milk used in higher value dairy products - such as cheese, butter or yoghurt - from British farms, rather than importing it, our correspondent says.
Last week Asda, the Co-op, Aldi and Morrisons agreed to raise the premiums they pay farmers from August.
Then on Tuesday, Asda announced another rise, saying it would pay an extra 2p per litre from August until the end of the year.
On Tuesday night, several hundred farmers were threatened with arrest by police after blockading all three entrances to Arla processing plant in Leeds.
A notice handed to protesters by police accused them of organising action "with the overall intention of intimidating Arla Food employees and their agents, namely HGV drivers".
But it was a claim rejected by protest organiser Stephen Britton, who in turn accused the police of acting in a "heavy handed" fashion.