London 2012: Sunday trading laws suspended for Olympics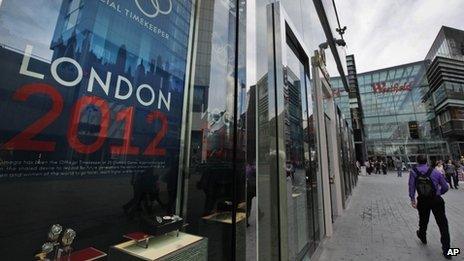 Sunday trading laws in England and Wales have been suspended until the end of the Olympics and Paralympics.
The government said being able to open longer on a Sunday would help retailers generate tens of millions of pounds in increased profits during London 2012.
Shop staff will retain the right to opt out of working on a Sunday.
But the Association of Convenience Stores said the big supermarkets would lure customers away from smaller shops, costing them millions in lost sales.
Under current legislation shops of more than 280 square metres (3,000 square feet) can open for a maximum of six hours on a Sunday, and only between the hours of 10:00 and 18:00.
A spokesman for the Department for Business, Innovation and Skills said larger shops would be "free to choose their opening hours on a Sunday" with "no restrictions on these hours" until the Olympics and Paralympics were over on 9 September.
In London, Westfield shopping centres in Stratford, in the east, and Shepherd's Bush, in the west, are opening between 11:00 and 21:00 BST throughout the Games period.
Wales's largest department store, John Lewis, in Cardiff, is opening an hour early from 10:00 during the Games. Its closing time of 17:00 remains unchanged. John Lewis said the majority of its other stores would be opening for an extra two hours.
Sainsbury's said it would extend Sunday trading hours in 30 of its supermarkets during the Games.
Waitrose said most of its shops would remain open for an additional two trading hours, with some opening earlier than usual and some staying open later.
And more than 160 Morrisons stores are set to stay open later, a spokeswoman for the chain said.
Chancellor George Osborne said the relaxation of the trading law would help maximise the economic benefits of the Olympics.
Shop workers' union Usdaw and the Keep Sunday Special campaign warned that the suspension could set a precedent.
John Hannett, general secretary of the union, said: "Usdaw remains vehemently opposed to the deregulation of Sunday trading and we expect the government to abide by its commitment that this summer's temporary suspension will not lead to any further attempts to extend Sunday opening hours.
"The government failed to make a coherent business case for the suspension and there is no evidence that it will boost the economy or tourism.
"Extended Sunday opening won't put more money in the pockets of hard-pressed shoppers and with margins being squeezed and sales flatlining, the last thing retail needs this summer is increased overheads with little or no return."
Deirdre Bounds, an entrepreneur, also believes the move could pave the way for permanent change in the legislation.
She said bureaucracy was strangling businesses.
"If we want to go shopping at nine o'clock in the morning, six o'clock in the evening, why not? I think this is going to be a really good test to see whether consumers want it," she said.
The Union of Welsh Independent churches, which represents 450 churches in Wales, said that allowing supermarkets to remain open on Sunday evening would have an adverse affect on staff and family-run corner shops, "as well as destroying what remains of Sunday as a day of rest".
However, the government insisted it had no plans to relax the rules permanently.
Business minister Norman Lamb said: "The Olympic and Paralympic Games are almost upon us and you can sense the excitement building.
"This will be a fantastic opportunity to showcase, not just London, but the whole of the country to the rest of the world and provide a boost for the economy, sales and employment."
He added: "Retail workers will keep all their legal protections, such as the right to opt-out of Sunday working, but many will want to take the opportunity to work extra or different hours.
"I want employers to work with their staff so that we can all make the most of the Olympics.
"I want to make it clear that this is a temporary measure and not a test case for a permanent relaxation of the rules in the future."
Related Internet Links
The BBC is not responsible for the content of external sites.