London 2012: 'Common sense' on sponsors - Jacques Rogge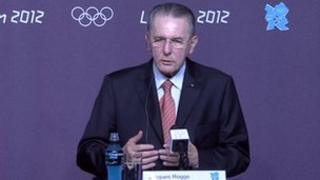 "Common sense will prevail" on enforcing protection of sponsors at London 2012, International Olympics Committee president Jacques Rogge says.
He said police would not be asked to pursue individual breaches, such as a spectator wearing clothes branded with the logo of a sponsor's rival.
But "really blatant" attempts at "ambush marketing" would be challenged.
He told reporters: "We have to protect the sponsors because... without sponsorship there are no Games."
Mr Rogge also said the IOC was satisfied with assurances from the UK government and London organisers, Locog, on Games security.
Thousands of extra troops and police officers have been drafted in to help with security since private contractor G4S admitted it would not be able to recruit enough staff.
"The security arrangements are in place now and we are satisfied with them," Mr Rogge said.
Asked about the policing of sponsorship, the IOC president said Locog would take a "subtle approach".
"But if there is really blatant intent of ambush marketing by another company or by a group of people with commercial views then, of course, we will intervene.
"If you have the T-shirt of a competitor of one of our sponsors we will not intervene," he said. "So, common sense will prevail and Locog will work with commonsense."
Under IOC rules, tier one "worldwide partners" - such as McDonald's and Coca-Cola - get sole global marketing rights within their sector, including being able to sell their products and services exclusively within Olympic venues.
Locog on Friday said only large groups of spectators wearing "visibly branded" clothing promoting rivals to the official sponsors were at risk of being banned from Olympic venues.
The Games organising committee was forced to clarify its stance on the issue after its chairman Lord Coe told the BBC anyone wearing a Pepsi T-shirt might not be allowed access - Pepsi's rival Coca-Cola is one of the official "partners" of the Games.
In other developments:
Mr Rogge was also asked by a number of journalists whether there would be a moment of silence at the opening ceremony to mark the 40th anniversary of the killing of 11 Israeli athletes and coaches and one German police officer by the Black September Palestinian group at the Munich Olympics.
He said the IOC was determined "to continue commemorating" the Israeli athletes killed - but believed the opening ceremony was not the right place to do it.
"We feel that we are able to give a very strong homage and remembrance for the athletes within the sphere of the International Olympic Committee," he said.
"We feel that we are going to do exactly the same at the exact place of the killings in the military airport near to Munich on the fifth of September, the exact date.
"And we feel that the opening ceremony is an atmosphere that is not fit to remember such a tragic incident."
Mr Rogge said he was reassured that "great care" was being taken to protect the live animals that will be used in the opening ceremony.
He also revealed that Argentina President Cristina Fernandez has told its athletes not to make any statements about the disputed Falkland Islands.