'One in eight soldiers' commits violence on return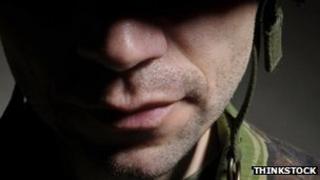 One in eight soldiers has attacked someone after coming home from a combat deployment, research suggests.
Ministry of Defence-funded researchers surveyed 13,000 Army personnel and say they found a link between combat and trauma, and violent behaviour - often towards their partners.
Former head of the Army General Richard Dannatt warned a cultural change is needed within the forces.
The Ministry of Defence said it had measures to manage violence.
The study by Dr Deirdre MacManus, at The Kings Centre for Military Health Research, found an association between soldiers' experiences in Iraq and Afghanistan, and violent behaviour at home.
Soldiers involved in direct combat were twice as likely as others to admit having hit someone at the end of the tour, the research found.
A third of the victims were someone in the family - often a wife or girlfriend.
Dr MacManus said: "The association between performing a combat role and being exposed to combat, and subsequent violence on return from deployment, is about two fold.
"We also saw that soldiers who had seen more than one traumatic event were more likely to report being violent."
This month an ex-soldier was jailed for shooting dead his landlady, just months after he had returned from serving in Afghanistan with the Territorial Army.
Aaron Wilkinson, 24, killed 52-year-old Judith Garnett, at her farm in Leeds.
Wilkinson had been diagnosed with post-traumatic stress reaction by an Army doctor. It developed into post-traumatic stress disorder (PTSD), but was not monitored or treated.
Wilkinson, who also had undiagnosed Asperger syndrome, admitted manslaughter on the grounds of diminished responsibility. He was cleared of murder.
Amanda Hawley, Mrs Garnett's friend, said the Army should have followed up the diagnosis of stress, and offered treatment.
The MoD said there was no evidence to suggest the forces had a greater problem with domestic violence than the civilian community.
It is examining ways to develop mental health support, including the use of screening techniques.
But it said at the moment there was evidence blanket mental health screening would do more harm than good.
Ex-Royal Engineer Lewis Mackay believes screening for PTSD after a tour would solve the problem of troops not wanting to admit they were not coping with the stress.
"You don't want to admit it to yourself that you have got something wrong with you," he said.
"The Army says 'come and see us if you have something wrong'. Guys aren't going to do it."
In Afghanistan he saw an IED search team commander lose both legs after stepping on an improvised explosive device.
Mr Mackay said that when he went home to his wife Emma, he came close to hitting her.
"I had flashbacks. If I was watching telly and there was loud bang on screen, I hit the deck," he said.
"I had a very short temper. I was punching doors and walls. I was very, very aggressive.
"If Emma was doing something that I didn't think was right I wanted to lash out. I had to try my hardest not to - by sitting on my hands or biting my fist."
Lord Dannatt says the MoD needs to get a grip on the scale of domestic violence.
"The whole issue of psychiatric injury, which in its extreme form expresses itself in PTSD, is going to be expressed in domestic violence.
"The scale needs to be quantified and more action needs to be taken," he said.
"Cultural change needs to be encouraged. It needs to be driven from the top down, but also from the bottom up so servicemen realise it's not un-macho to put their hands up - in private - and say 'I need help'."
The Ministry of Defence points to a range of measures to spot stress and manage the risk of violence when troops go back to their families.
Members of a unit are trained in TRIM - trauma risk management - which enables them to recognise signs of stress in their comrades.
Anyone identified as being at risk is interviewed to check how they are coping, and followed up.
There is also a stress management package - including two days "decompression" in Cyprus on the way home, where personnel can mentally and physically unwind.
And to improve the "homecoming", families are offered presentations and leaflets about what to expect, and signs of stress to look out for.
'Own armoury'
But according to veterans' organisations, many soldiers carry that stress with them, even after they leave the Army.
Former Army captain Mick Stott is now a personal development trainer.
He offers free courses to veterans who are struggling with alcohol and drug abuse and violent behaviour.
He said many of those who felt safe in the Army tried to recreate that environment at home.
"I've gone to some guys' homes and they've got their own armoury - illegal handguns, AK47 parts - and paraphernalia from operations.
"They've surrounded themselves with trophies if you like," he said.
"When I see guys that have got high-velocity weapons in their homes, I'm glad they're on defence mode and not attack mode. I just wonder what will happen when they go into attack mode."
Listen to the full report on File on 4 on BBC Radio 4 on Tuesday, 24 July at 20:00 BST and Sunday 29 July at 17:00 BST. Listen again via the Radio 4 website or download the File on 4 podcast.