Five people charged with terrorism offences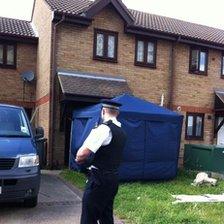 Five people from London have been charged with terrorism offences.
Three men have been charged with preparing for acts of terrorism while a man and a woman have been charged with possessing terrorist documents.
Those charged are Richard Dart, 29, from Ealing; Imran Mahmood, 21, from Northolt; Jahangir Alom, 26, from Stratford; and Ruksana Begum, 22, from Hoxton.
Also charged was Khalid Baqa, 47, from Barking.
All five will appear at Westminster Magistrates' Court on Thursday.
Four of those charged were arrested earlier in the month during a Metropolitan Police operation, while Mr Baqa was detained on Wednesday.
Mr Dart, Mr Mahmood and Mr Alom are charged that "between 25 July 2010 and 6 July 2012, with the intention of committing acts of terrorism or assisting another to commit such acts, engaged in conduct in preparation for giving effect to his intention".
They are alleged to have travelled to Pakistan and elsewhere for "training in terrorism" and to have provided information to others about how to obtain terrorism training in Pakistan and terrorism training.
They have been charged under Section 5 of the Terrorism Act 2006.
Ms Begum has been charged with possession of a document likely to be of use to a terrorist, contrary to section 58 of the Terrorism Act 2000.
The allegation is that "on 5 July 2012, without reasonable excuse, Ruksana Begum was in possession of a record of information of a kind likely to be useful to a person committing or preparing an act of terrorism, namely a micro SD card which contains documents entitled Inspire 8, Inspire 9 Winter 2012 Edition, and Shahida and Al-Fidous.
Inspire is an online al-Qaeda magazine.
Mr Baqa has been charged with three counts of possession of terrorist material and one count of dissemination of terrorist material.
He is alleged to have been in possession of CDs containing a document entitled 39 Ways to Support and Participate in Jihad, as well as a number of issues of Inspire.
Related Internet Links
The BBC is not responsible for the content of external sites.