Royal wedding protests: High Court rules arrests lawful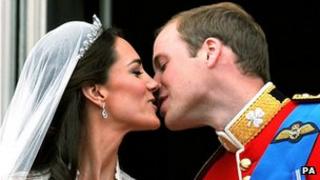 Protesters against last year's royal wedding have failed in a bid to get the High Court to rule they were victims of unlawful searches and arrests.
Twenty people arrested or searched before or on Prince William's wedding day had argued police were operating an unlawful pre-emptive policy.
They claimed that the Metropolitan Police policy violated the fundamental democratic right to protest.
But Lord Justice Richards and Mr Justice Openshaw ruled against them.
"We find nothing in the various strands of the claimants' case, whether taken individually or cumulatively, to make good the contention that the policing of the royal wedding involved an unlawful policy or practice, with an impermissibly low threshold of tolerance for public protests," they said.
The applicants had said they were pre-emptively arrested ahead of the royal wedding on 29 April 2011.
They said the signal for their release from custody had been "the balcony kiss" of the royal couple.
At the time, police said they suspected them of being about to commit breaches of the peace.
They said that they had brought forward the operation because of the royal wedding, but stressed it was not directly related to the event.