PC Yvonne Fletcher murder: British police visit Libya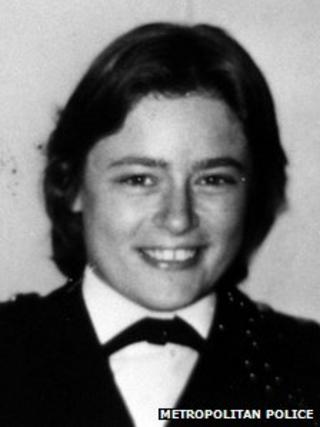 Two Metropolitan Police detectives have flown to Libya as part of the ongoing investigation into the murder of PC Yvonne Fletcher.
It follows a request from the Libyan authorities for officers to revisit as soon as possible.
PC Fletcher, 25, was shot while policing a protest against the Muammar Gaddafi regime at the Libyan embassy in St James's Square in London in 1984.
The detectives are expected to be in Tripoli for several days.
The request was made via the Foreign Office, a statement from the Met said.
The officers are due to meet Libyan officials to follow up preliminary discussions held last month on working together to identify who was responsible for PC Fletcher's murder.
The statement said: "It is hoped that the officers will again have the opportunity to meet Libya's Prosecutor General.
"Detectives remain in regular contact with WPC Fletcher's family who will be given an update about the visit."
Embassy siege
British officers had previously been refused visas by the Libyan authorities for such a visit.
The bullets which killed PC Fletcher and injured 10 protesters came from inside the Libyan embassy, but no-one has ever been charged over the shootings.
Her death led to an 11-day siege of the building and the severing of diplomatic ties between the UK and Libya.
In May, Libyan Prime Minister Abdurrahim El-Keib laid a wreath at the spot where she died, and held a private meeting with her family.
They said in a statement they "looked forward to the investigation progressing".