Rain 'almost apocalyptic' for wildlife, says National Trust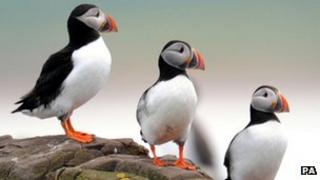 The UK's recent rainy weather has been "almost apocalyptic" for some wildlife in 2012, the National Trust has said.
Cold, wet conditions have left many bees, bats, birds, butterflies and wildflowers struggling - with next year looking bleak too, it said.
But the National Trust pointed to some of wildlife's winners, including slugs and snails, which have managed to thrive in the inclement weather.
The news comes after the wettest April-June on record, and heavy rain in July.
The rain has been good for the UK's greenery, with gardeners tackling fast-growing lawns and the countryside booming with nettles, bracken and brambles, the National Trust said.
Mosses and plants such as early gentian and bee orchids, and twayblade, pyramidal and common spotted orchids have been thriving along the trackways of Whipsnade Downs in Bedfordshire.
But Matthew Oates, the trust's conservation adviser warned that the list of wet weather losers was far longer, and could lead to local extinctions of rare or isolated species, including butterflies.
Puffins drowned
The breeding season has been particularly catastrophic, with sea birds being blown off cliffs by gales and garden birds unable to find food for their young.
Adult terns nesting in Strangford Lough, in Northern Ireland, have struggled to keep eggs and chicks dry and warm - potentially wiping out common, Arctic and Sandwich tern fledglings from the site this year.
Relentless wet weather has also devastated puffin colonies on the Farne Islands - which are managed by the National Trust - with 90% of burrows lost on Brownsman Island, and puffins drowned in about half of burrows left flooded on other islands.
Meanwhile, bats have been hit by the cold conditions, particularly lesser and greater horseshoe bats - leading to a slow-down of pregnancies.
Bat pups could be in danger of being born underweight, failing to grow enough to go into hibernation as mothers struggle to provide enough nutrition, Mr Oates warned.
Heavy rain has also left butterflies, bees, bumblebees, hoverflies and moths scarce this summer.
After a dry start to the year helped amphibians to breed, the April downpours filled dry ponds with water which was too cold for frogs, newts and toads.
'Rebuild populations'
And it is not just birds and animals that have suffered in the adverse weather.
Delicate summer flowers have died in the deluge, although fields where agricultural spraying has failed in the rain have seen large displays of poppies.
Mr Oates said: "This is turning out to be an almost apocalyptic summer for most of our much-loved wildlife - birds, butterflies, bees.
"So much so that the prospects for many of these in 2013 are bleak. Our wildlife desperately needs some sustained sunshine, particularly beneficial insects."
Insects have also been in decline after two years of poor weather, and a better summer next year is important to rebuild populations, he added.
"We desperately need the sun on our backs."