Newspaper review: Papers slam 'shambolic' G4S Olympic security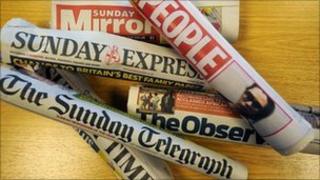 Another twist in the G4S Olympic security scandal is the lead for several papers, including the Independent on Sunday.
It says Home Secretary Theresa May was warned about the fiasco ten months ago in a confidential report from the Inspectorate of Constabulary.
The Sunday Mirror has the headline "shambolic", saying the army and police chiefs are furious at having to step in to rescue security at the Games.
And the Sunday Express reports that the bosses of London 2012 and G4S are under pressure to give their bonuses to the soldiers.
Meanwhile, thousands of doctors and nurses are facing the sack unless they agree to drastic changes to their pay and conditions, according to the Sunday Times.
The paper says it has seen a document drawn up by NHS bosses.
Fatal shot
The Observer claims terror suspects on the Home Office watch list are entering the UK via Heathrow without the necessary security checks.
Staff told the paper that inexperienced recruits are repeatedly missing people of interest to the authorities.
The Sunday Telegraph says it has been told the identity of the man suspected of shooting WPC Yvonne Fletcher outside the Libyan embassy in London in 1984.
A senior advisor to Libya's prime minister says a pro-Gaddafi student is thought to have fired the fatal shot.
And the Mail on Sunday says a Sudanese asylum seeker who raped a girl aged 12 has been allowed to stay in Britain,
It says a judge ruled that to deport him would breach his human rights, after he was granted refugee status.
Murdoch friendship
Fallout from the John Terry race trial also makes the lead in three tabloids.
Anton Ferdinand tells the People the outcome of the trial has left him fearing for the future of football.
The Daily Star Sunday and the Sun on Sunday report comments about Chelsea player Ashley Cole by former England colleague Rio Ferdinand, Anton's brother.
The Scotsman says Alex Salmond could use his friendship with Rupert Murdoch to protect BSkyB money for Scottish football, following Rangers' demotion.