London 2012: RAF has 'lethal force option'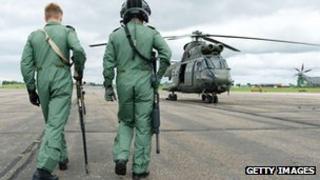 The RAF is ready to use "lethal force" if the Olympics are threatened, the Games air security commander has said.
Speaking at RAF Northolt in north-west London, Air Vice-Marshal Stuart Atha said a plane could be shot down as a last resort in a "worst-case scenario".
Asked who would give the order, he said: "The highest level of government makes that decision."
A series of airspace restrictions around London and south-east England are set to be enforced after midnight.
Typhoon jets and Sea King helicopters are being deployed to RAF Northolt.
The prohibited zone will be about 30 miles wide and does not affect commercial aircraft, which fly in established air traffic corridors.
The temporary additional restrictions to airspace in and around the capital come into force at 00:01 BST on Saturday and will last for a month.
A Home Office spokesman said: "We are planning on a terrorist threat environment that is severe... we are not suggesting that there is any particular threat or risk to the Games that we know about."
Details have been released about how the Typhoons and Sea Kings would act if they intercepted an aircraft.
A suspicious aircraft would be contacted by radio and ordered to rock its wings to acknowledge the warning, follow the military aircraft and turn away from London.
Flares and lasers could be fired by the military aircraft and, as a last resort, if an aircraft failed to comply with the directions of the military aircraft, it may be considered to be a threat to security, which may result in the use of lethal force.
HMS Ocean is also set to return to London with a deployment of Royal Marines to provide security on the River Thames.
It comes the day after ground-based air defence systems were installed at four sites in and around London.
Earlier this week, Typhoon fighters were deployed to RAF Northolt, while RAF Puma helicopters and snipers were deployed to Ilford in east London.
The Civil Aviation Authority (CAA), National Air Traffic Services (Nats) and the MoD have worked together to inform pilots about the restrictions and how people can continue to use the UK's airspace during the Olympics.
BBC news correspondent Nick Childs, at RAF Northolt, said: "This is very much a last-minute information offensive by the authorities to make sure that every pilot in the UK knows that these restrictions are coming into effect from midnight tonight.
"The message is that it should not affect in any way scheduled airlines but it will affect general aviation and pilots in particular."
He said pilots of light aircraft could still fly over London, but only if they had gone through a series of security procedures.