London Olympics: Doubts persist about UK-wide benefits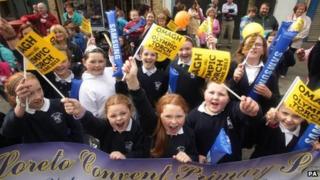 Most people think the Olympic Games will mainly benefit London and not the rest of the country, a BBC poll of 2,017 people has found.
Of those questioned, 74% said the rest of the UK would not benefit, with Scots and those in Wales and south-west and northern England most likely to agree.
However, 40% said the Olympic torch relay had increased their interest in the Games.
And 55% said London 2012 would be good value for the country as a whole.
A majority (59%) of the people questioned across the UK thought taxpayers had paid too much to cover the cost of the Games, but at the same time 53% thought it was not wasted money.
When the same questions were asked in April , some 64% thought the cost was too high.
Torch relay
Respondents were asked about the Olympic torch relay which began on 18 May and is touring the UK for 70 days before finishing its journey at the opening ceremony on 27 July.
Forty per cent of the 2,017 people questioned by pollsters ComRes said the relay had made them more interested in the Olympics, while 58% disagreed.
When broken down by region, people in Northern Ireland (59%) were most likely to say their interest had risen.
The torch relay toured Northern Ireland for five days beginning on 3 June and was met by large crowds throughout its journey.
South-west England, the Midlands and northern England (all 44%) also showed a greater than average increase in interest.
These were places where the relay had visited before the poll was carried out in late June and early July.
However those in Scotland (34%) which had also been visited by the relay, and south-east England (32%) were least likely to show an increased interest.
Young people were most likely to say that their enthusiasm for the Games had risen since the turn of the year.
Overall, a third of all respondents (36%) said their interest had increased since January but the figure rose to 47% among 18-24-year-olds.