MI5 and MI6 'under pressure' because of Olympics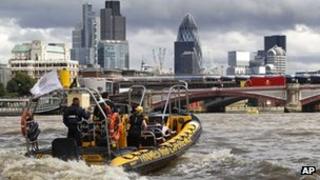 The intelligence services have been placed under "unprecedented pressure" preparing for the Olympics, warn MPs.
The Intelligence and Security Committee (ISC) - which scrutinises the work of MI5, MI6 and GCHQ - says it is concerned about UK's "vulnerability".
The ISC's annual report says: "The Olympic and Paralympic Games have placed all three agencies (particularly the Security Service) under unprecedented pressure this year."
London 2012 starts on 27 July.
The report's publication comes as Home Secretary Theresa May prepares to make an urgent statement in the Commons on Olympics security, after it emerged an extra 3,500 troops were needed.
'Concerned'
The Chief Inspector of Borders, John Vine, has also said border officers with basic training are manning immigration desks at Heathrow airport amid suggestions by the unions that it poses a security risk.
The ISC report says: "We recognise that the Security Service (MI5) has taken all possible measures to make available the necessary resources during the period of the Olympic and Paralympic Games, but remain concerned at the risk that is being taken in some areas and the vulnerability of the UK at this critical period."
The report says MI5 has identified three potential threats to the Olympics:
An attack by al-Qaeda or its affiliates with US or Israeli athletes and spectators particularly at risk
An attack or a hoax by dissident Irish republican groups aimed at causing disruption rather than casualties
Clashes between different foreign nationals in London who may be in the country to support their athletes
The ISC said MI5 predicted it would have double the normal volume of intelligence leads during the Olympics.
Added burden
The report said a further burden was the need to check the 540,000 applications for accreditation from athletes, officials and volunteers to identify national security threats.
MI5 has also had to brief 200 foreign intelligence agencies who are sending representatives to London.
All three intelligence agencies have imposed restrictions on leave and extended operating hours.
National Security Adviser Sir Kim Darroch told the ISC the focus on the Olympics could have a knock-on effect for other areas of the agencies' work.
He said: "Of course there will be greater risk. But with finite resources and a major national priority requiring greater effort over a defined period of time, it is inevitable that there will have to be a greater risk-taking in some parts of the Security Service business."