Fresh Heathrow border concerns as Olympics approaches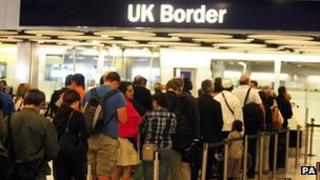 Border officers with basic training are manning immigration desks at Heathrow as the Olympics approaches, Chief Inspector of Borders John Vine says.
He said some staff were not dealing with arriving passengers efficiently or effectively enough and that forged documents could be going undetected.
However, he said all border security checks were now in place, after an earlier visit found this was lacking.
Immigration Minister Damian Green said inexperienced staff were mentored.
Mr Vine, who carried out a short-notice inspection of Heathrow's Terminals 3 and 4, told BBC Radio 4's Today programme his report was largely "very positive".
"There was a good, consistent level of border security... and the only area that concerned me slightly was that when customs officers were being used for immigration purposes I found that they were dealing with customers less quickly and less confidently."
Mr Green said the UK Border Force was to go into full "Olympic mode" on Sunday and he promised all immigration desks at Heathrow would be manned at peak times.
He told Today: "April was a bad month. We have put more people in since then, progressively ramping up the numbers and during the Olympics 300 officers will be on duty at Heathrow."
He said officers who were not experienced in immigration matters were being mentored by more experienced staff to make them more confident and quicker.
Lucy Moreton, deputy general secretary of the Immigration Services Union, told BBC Radio 5 live Breakfast she was not surprised to hear of the delays.
She said: "It's inevitable that you cannot expect staff with a very minimal level of training and no experience to be able to do their job to the same standard as those who have had a full set of training and have been doing that job without a break for many years."
Ms Moreton said "basic mistakes" were being made, including not knowing which countries were in the EU.
She said she did not want to be a "panic merchant" but added: "The worst case scenario is letting someone into the country who is planning to do harm to the UK."
'Significant test'
In February, Mr Vine published a critical report on border controls revealing that security checks had been suspended regularly and applied inconsistently since at least 2007.
The report, prompted by a row between the home secretary and the then head of border security, found hundreds of thousands of people had entered the UK without appropriate checks.
In his latest report Mr Vine said all border security checks were now in place and managers were following his earlier recommendations.
He said concerns had been raised about how senior managers were deploying staff from secondary areas to front-line desks. These staff knew the rules about how to security-check arriving passengers. But he added: "Some of these officers appeared less confident when processing passengers.
"This meant they often took longer to process them and asked fewer probing questions. We felt that this affected how efficiently and effectively Border Force was able to progress passengers through the terminal.
"Some staff remained concerned about the potential risks of employing staff on immigration control who had received only basic training and who had no immigration background/experience."
Mr Vine said his team had also found inconsistencies in how well staff used equipment to detect forged documents. He said that the methods for measuring queues at both terminals did not accurately reflect how efficiently they were being cleared.
'Olympics mode'
Earlier in the week, immigration minister Damian Green said 500 extra staff would be on duty at Heathrow from 15 July.
A Border Force spokeswoman said: "John Vine acknowledges the positive addition of hundreds of extra staff deployed to meet demand, the creation of a central control room to manage resources and on-going recruitment of more border officers.
"We are also working with [airport operator] BAA on improving queue measurement, looking at securing staffing levels for the long-term and continued training and mentoring for contingency staff to ensure they carry out efficient and secure check on passengers."
But shadow home secretary Yvette Cooper said: "The Olympic countdown has started, yet the home secretary still hasn't sorted the chaos at our borders caused by her decision to cut so many staff this year.
"Re-employing former immigration staff, having cut nearly 900 people from the Border Force since the general election, is a damning self-admission of failure and a waste of taxpayers' money too."
Fellow Labour MP John McDonnell has tabled a Commons motion, saying it will be "deeply embarrassing if visitors spend more time queueing than enjoying the Olympics".
He has called on the prime minister "to intervene urgently and take personal responsibility" to resolve the problem.