Olympic torch relay: What's it like to carry the flame?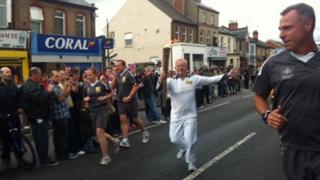 BBC Sport's Head of Major Events, Dave Gordon carried the Olympic flame on Tuesday. Here he describes how his "moment to shine" took him by surprise.
I was simply not prepared for what turned out to be one of the most emotional experiences of my life.
When you're working on your 10th summer Olympics for the BBC, you've travelled the world, you've seen some great sporting moments and met many of the world's greatest athletes, you think you've seen it all - I hadn't.
It was wonderful just to get the opportunity courtesy of the IOC and OBS, the Olympic host broadcaster. What an honour!
I'd been quietly looking forward to it for months although it didn't seem real until the white torch relay uniform and instructions for the day arrived just over a week before. Yes, I did try it on straightaway but I resisted the temptation to live in it until the great day arrived.
As it drew nearer, I began to become more nervous particularly when I realised that greats such as Sir Steve Redgrave and Sir Roger Bannister would also be carrying the torch on Day 53 from Oxford to Reading. The Queen was also going to greet it at Windsor Castle.
I was lucky in that I was due to run relatively late in the day - 6.17pm in Reading. No early start for me or my family so I arrived at the Madejski stadium, as instructed, at 4.00pm.
As the family went off to find the best vantage point on the route, I waited in the hotel foyer and started to meet my fellow runners for the final section of the day.
It was with relief that I saw a familiar face. One of the other runners was Di Ellis, Chairman of British Rowing, who has played a key role in supporting the sport's long term Olympic successes. I shouldn't have worried. All 11 of us were soon chatting away swapping stories and sharing the nervous excitement of what was to come.
Our two torch relay chaperones were doing a sterling job reassuring and supporting us all. They did a great job explaining what was to happen, how to hold the torch and how not to set your hair alight in the process.
After about an hour, it was time to get on a small coach and drive into Reading, ready to join the convoy when it arrived from Bracknell. The nerves were really kicking in then as the realisation dawned that huge crowds were gathering along the side of the road and we were about to play our part in the 70 day torch journey.
Orchestrated by the volunteers, we all took turns to tell our stories. When I realised that I was surrounded by people with serious illness, those who have raised thousands for charity and others who do great work in the community, I felt very humble just to be in their presence. What we do in the world of the broadcast media simply doesn't compare to the challenges many face in life.
So the convoy arrived and we were slotted into it behind the police outriders. We were to be dropped off one by one at our allotted starting points.
The 11 torches were on the bus and we were handed them just before we got off. The crowds by now were enormous and cheering us as we passed. They waved, we waved and I knew that the moment was nearly upon me.
As I got off, I was immediately surrounded by people wanting to look at the torch and have their photo taken with it. One of those policemen on a bike you see accompanying the torch runners rescued me and told me where to stand. I saw my daughters and nephews and was able to shout to them and pose for pictures.
If you doubt that Olympic fever is getting a grip on the UK, you need only to see the scenes as the torch moves from town to town across the UK.
Then the moment arrived, the previous runner came up the road and we then stood together as our torches kissed. My short journey was about to begin. I set off proudly holding the torch aloft and waving with the other hand.
The cheering and support from the crowd was fantastic. I couldn't believe what was happening. I'd planned to jog very slowly to milk every second but was carried away by adrenaline and sheer excitement.
Pirouette and backwards running
I just didn't stop and found myself swapping the torch from one hand to the other as I waved to the crowds on both sides of the street. Suddenly, I heard shouts of "Dave, Dave, Dave". I look to the left and see some of the core Sport 2012 team, who, as a surprise, have come to support me.
They are already working such long hours and they've come all this way to cheer me on. I begin to well up. I also do a pirouette to keep looking at them and find myself running backwards! Thank goodness I haven't dropped the torch in the process.
The end beckons and the noise as I cross the busy A4/A329 junction is deafening. I look out for my wife, mother and some other family friends. Where are they? Have I missed them?
The next runner is in sight and I realise that the adventure is almost over. I reach the appointed spot and look to the side of the road. There they are. My mother in pole position - well you don't argue with a 91 year old. She's had a great day and as she tells me later one of the proudest of her life.
Torch 'kiss' completed, I'm ushered onto another bus which will pick up our band of 11 and deliver us back to the Madejski stadium. We swap experiences but we are all somewhat bewildered.
It's been one of the most extraordinary, exceptional and emotional events of our lives. I am so proud to be playing a leading role in the BBC's coverage of the London Olympics but today was not about living life through a lens, it was about experiencing the Games for real, in a very special way that I will never forget.