Leveson Inquiry: Murdoch 'Wapping request to Thatcher'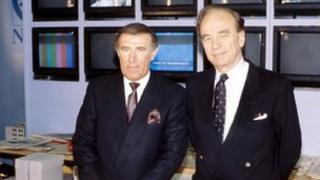 Rupert Murdoch sought assurances from then-PM Margaret Thatcher in the 1980s about policing of print union strikes, the Leveson Inquiry has been told.
In a written statement , ex-Sunday Times editor Andrew Neil disputed Mr Murdoch's claim that he had "never asked a prime minister for anything".
Mr Neil also wrote of Tony Blair and Mr Murdoch reaching "an understanding".
That "relationship became closer, more extensive and deeper than anything ... during the Thatcher years", he claimed.
"There was at least one time ... when Mr Murdoch's support for Mrs Thatcher paid business dividends and undermines the accuracy of his claim to the Inquiry that he has never asked politicians for anything," wrote Mr Neil, now a BBC presenter.
"In the run-up to the Wapping dispute he made it clear to me one night in late 1985 in my office that he had gone to Mrs Thatcher to get her assurance - to 'square Thatcher' in his words - that enough police would be made available to allow him to get his papers out past the massed pickets at Wapping once the dispute got underway."
Mr Murdoch received assurances from Mrs Thatcher, Mr Neil said, "on the grounds that she was doing no more than upholding the right of his company to go about its lawful business".
'Mutual interest'
In his statement, Mr Neil suggested that the "seminal development in relations between British politicians and the media" during his career had been the Murdoch papers' vicious treatment of Labour leader Neil Kinnock in the 80s and 90s.
"This seared into the minds of a future generation of Labour leaders, especially Tony Blair and those closest to him, what could happen if they ended up on the wrong side of the Murdoch press."
The result was New Labour's desire to come to an arrangement with the newspaper group for mutual interest, Mr Neil said.
Mr Neil claimed that in 1996, a year before Labour won power, Mr Blair told him: "How we treat Rupert Murdoch's media interests when in power will depend on how his newspapers treat the Labour party in the run-up to the election."
As it turned out, Mr Neil said, Labour enjoyed more than a decade's support from the News International papers, while the media group in turn benefited from relaxed media ownership rules.
"This was something Mr Murdoch's people lobbied hard for, with his support, and they had unique and extensive access to the levers of power at the heart of the Blair government to make this lobbying effective," Mr Neil wrote.
"When Mr Murdoch testified before this Inquiry that he had never asked government for anything it gave me cause to wonder if he had forgotten this - or forgotten he was testifying under oath."