Abu Hamza appeals to Europe over extradition to US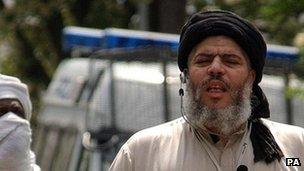 Radical Islamic cleric Abu Hamza has appealed to the European Court of Human Rights against his extradition to the US on terror charges.
The appeal 24 hours before the deadline expired now further delays the case.
It means the London-based cleric, who is 54 and in extradition custody, cannot be removed until a panel decides if the court's Grand Chamber should hear new submissions from his lawyers.
The charges on the indictment include hostage-taking in Yemen in 1998.
Four other extradition cases covered by a judgement which is being challenged, including that of terror suspect Babar Ahmad, are thought to be on hold for between six and eight weeks, the BBC's home affairs correspondent Danny Shaw says on Twitter.
That is the period expected for the panel to decide whether to hear the appeal.
Mr Ahmad, 37, who is suspected by the US of supporting and fundraising for terrorism, has been in custody in the UK without facing trial since August 2004.
The other cases involve Mr Ahmad's co-accused Syed Talha Ahsan, and Adel Abdul Bary and Khaled al-Fawwaz, who are accused of being key aides to Osama bin Laden in London.
In April, the European Court of Human Rights backed the extradition of the men from the UK to the US.
The Strasbourg court held that their human rights would not be violated by the prospect of life sentences and solitary confinement in a US "supermax" prison.
The court's decision was seen as one of its most important since 9/11. A ruling that human rights are observed in US maximum security prisons is expected to make it easier for the UK to send suspects to America.
Following news of Abu Hamza's appeal on Monday, the Home Office said it had welcomed the court's original judgement, but accepted that it would not be final in any of the cases until the appeal was decided.
All five men would remain in extradition custody, a spokesman added.
Abu Hamza is also accused by the US of planning to establish a training camp in Bly, Oregon. There are further allegations that he plotted to provide material support to terrorists in Afghanistan and provided goods and services to the Taliban.
He was first arrested at the request of the US in May 2004 - but the extradition was halted after he was jailed at the Old Bailey for incitement offences relating to his sermons in London.