Terror suspect arrested for 'Olympic Park travel breach'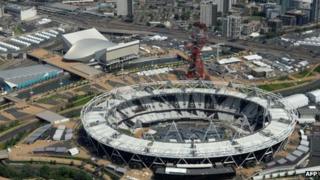 A terrorist suspect has been arrested for breaching legal curbs on his movements after he travelled through the Olympic Park site in east London.
The 24-year-old, known as CF, is one of nine people subject to Terrorism Prevention and Investigation Measures.
He was arrested last month and charged with five separate breaches of an order banning him from using the train route which passes through the area.
CF's legal team has promised to prove he was seeing his solicitor each time.
They blame the breach on "erroneous advice" that the London Overground journeys were not in breach of the Terrorism Prevention and Investigation Measures (T-Pim) because they did not involve him stopping at Stratford International station.
'Very serious questions'
CF wears an electronic tag allowing the authorities to track his movements.
He was held overnight after being arrested for entering the Olympic no-go zone, but was subsequently released on bail, and he is due to face prosecution later this month.
T-Pims replaced the control orders system previously used to restrict the movements and contacts of individuals thought to pose a risk to the public, but who cannot be tried for reasons of national security.
Control orders allowed the authorities to force suspects to move away from their homes and close associates - but under the T-Pim regime, they do not.
Shadow home secretary Yvette Cooper has asked whether the incidents posed a threat to safety at the London 2012 Games - and said the "downgraded" anti-terror measures were at fault.
Ms Cooper said CF's alleged multiple breaches of the T-Pim: "Raise very serious questions about the home secretary's judgment in downgrading counter terror powers in Olympic year, against expert advice.
"The reports show that last year this terror suspect was seen as sufficiently dangerous for the Home Office and the courts to ban him from London.
"Yet this year, because the home secretary downgraded control orders to T-Pims, he was allowed back into the capital and was able to travel to the Olympic area as a result.
"These weaker counter terror powers are costing the taxpayer millions of pounds in extra police surveillance at a time when the police already face serious pressure from budget cuts and Olympic demands."
CF is reportedly staging a legal challenge against the order which is due to be heard by the High Court on Monday.
A spokeswoman for the Crown Prosecution Service said: "CF has been charged with five offences of breaching his T-Pim. He is next in court on 27 July."