Leveson Inquiry: Decision time approaches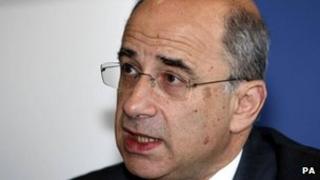 After months hearing about the problems of the press, it is time for Lord Justice Leveson to come up with some solutions.
He begins with an entire module of his inquiry dedicated to mulling the future of press regulation.
But the judge can only recommend. Politicians will make the final decisions.
The comments of MPs, the press and the judge himself all give indications as to what the future may hold.
The Press Complaints Commission is doomed
Lord Justice Leveson has encouraged the papers to press ahead with their own proposals, and they have grasped the opportunity.
A long detailed submission from the chairman of the PCC's funding body, Lord Black , recommends a new body with the power to launch investigations and levy fines of up to £1m.
The plan would preserve self-regulation - albeit with a bigger role for the public - and rely on contracts to bind publishers to the new system.
Whether or not the judge and the politicians are impressed with this plan, it is very difficult to imagine a new structure less stringent than the one proposed by the industry itself.
Direct press regulation by government is not going to happen
Rarely has a day gone by at the inquiry without someone, often Lord Justice Leveson, insisting on the importance of a free press.
Prime Minister David Cameron has ruled out direct regulation by ministers, or any new privacy law, and dismissed talk of forcing papers to separate news and comment.
The very worst fears of those who imagine politicians wielding a censor's pen will not be realised.
Laws may still have to change
The central sticking point is ensuring that every paper is involved.
The publisher of the Express and Star titles - Northern & Shell - withdrew from the Press Complaints Commission in 2010, and there wasn't anything the PCC could do about it.
Lord Black's submission says these papers would be part of the new system.
It has been variously suggested those who decline to take part in a new system could be denied access to official press cards, the Press Association news wire and "lobby" accreditation for Downing Street briefings.
The judge, though, may decide a new law is needed to force everyone to participate, and to give an independent regulator teeth.
Any attempts to pass a bill like that would make many in the press and some in Parliament nervous; not least for fear it would be amended to add more draconian powers.
Education Secretary Michael Gove told Lord Justice Leveson: "The case for regulation needs to be made very strongly before we further curtail liberty."
The new system will have to protect the public
It is the testimony of those like the McCanns and the Dowlers that will stick in the public mind.
David Cameron said the test for a regulator would be whether it protected ordinary families caught in media maelstroms.
The question is: how?
There is enthusiasm for a body that could arbitrate between journalists and the public. Both have an interest in resolving disputes without the expense of a day in court.
But would the papers agree to print prominent apologies on the say so of a mediator, and could wealthy complainants not bypass the new system and carry on suing the press?
Lessons will be learned from Jeremy Hunt's embarrassment
There has been little applause for a system that saw a young special advisor play a central and largely unmonitored role in handling a "quasi-judicial" decision.
Culture Secretary Jeremy Hunt has suffered serious political damage for his advisor's informal communications with a News Corp lobbyist as the minister pondered the company's BskyB bid.
David Cameron has suggested politicians should be removed from making decisions about media takeovers.
He is consulting the adviser on the ministerial code Sir Alex Allan about training for handling quasi-judicial proceedings and making sure special advisers are properly prepared.
A threat to Rupert Murdoch remains
Labour's leader Ed Miliband told the inquiry that News International was too big, and suggested limits should be set on how much of the newspaper industry, or the broader media market, one publisher should control.
He said he was not out to stifle one organisation or another, but his comments clearly threatened Rupert Murdoch's interests.
Deputy Prime Minister Nick Clegg asked whether a Competition Commission investigation might be prompted by a single media organisation growing too big.
Issue remains politically charged
There is much talk of reaching a political consensus on the future.
But no one at Westminster has forgotten Mr Miliband's success in calling for the Leveson Inquiry, or the culture and media select committee's party political split over its phone hacking report.
A certain amount of dignity and deference is required in Lord Justice Leveson's court room.
Discussions about its conclusions will be more robust and, perhaps, more unpredictable.