Seven men are arrested in anti-terror raids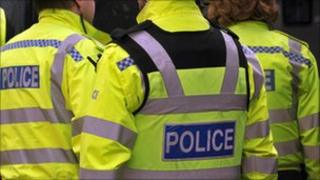 Seven men have been arrested by police in anti-terror raids after weapons were found hidden in a car, police say.
Six men from the West Midlands and one from West Yorkshire were detained over three days, West Midlands Police said.
They said the car was stopped on the M1 in South Yorkshire on Saturday - a search later found firearms, offensive weapons and other material inside.
The BBC understands the arrests are not linked to the Olympics or Thursday's London arrests of six terror suspects.
The car had been impounded on suspicion of having no insurance.
Police traced and arrested the driver, passenger and others on suspicion of the commission, preparation, or instigation of acts of terrorism.
Forensic searches
Three men aged 23, 26 and 27 from Sparkhill, Birmingham, were arrested on Tuesday morning.
A 22-year-old from Alum Rock, Birmingham, a 24-year-old from Moseley and a 22-year-old from Smethwick, West Midlands, were arrested on Wednesday evening.
A 43-year old man from Kirklees, West Yorkshire, was arrested on Thursday.
Det Ch Supt Kenny Bell, head of the West Midlands Counter Terrorism Unit, said: "As soon as the items were discovered in the impounded vehicle, our priority was to protect the public by pursuing and arresting those we believed to be involved."
The items recovered from the vehicle are undergoing forensic analysis and searches are being carried out at the addresses of those in custody.
Detectives were given extra time to question the three men arrested on Tuesday after the initial 48-hour detention period expired. They now have until next Tuesday morning to charge or release the men, or apply for further time.
Officers have now also been given seven more days to question the men arrested on Wednesday.
All seven men are being held at a police station in the West Midlands.
On Thursday, five men and a woman suspected of terrorism offences were arrested in London as part of an investigation involving MI5.
It is understood those arrests relate to a possible plot involving Islamist extremists, with potential UK targets.
The UK terrorism threat level is unchanged from "substantial", which means a terrorist attack is a "strong possibility". There are two higher levels - "severe", meaning an attack is "highly likely", and "critical", meaning an attack is "expected imminently".