Phone hacking: Glenn Mulcaire loses disclosure battle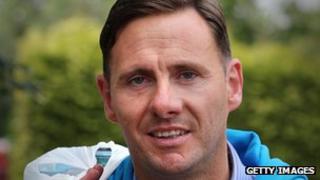 Private investigator Glenn Mulcaire has lost his legal battle to conceal the identity of journalists who instructed him to hack into mobile phone messages.
Mulcaire, who worked for the News of the World, was jailed in January 2007 for unlawfully intercepting voicemail messages received by royal aides.
He appealed against giving names in proceedings brought by Nicola Phillips, assistant to publicist Max Clifford.
Five judges unanimously dismissed his appeal to the Supreme Court.
Mulcaire will now have to reveal the name to a "confidentiality club" made up of the lawyers and litigants in the civil phone hacking case.
He had said the appeal was made to protect his "legitimate legal interests" and that his lawyers had advised him he should not be forced by court orders to give "potentially incriminating answers" to questions asked in a civil case.
Ms Phillips's lawyer said the ruling was a "significant milestone" and would affect others who had sued News of the World publisher News Group Newspapers after claiming phones were hacked.
Mark Lewis said he expected Mr Mulcaire to serve a statement to his team within three weeks.
Notebooks surrendered
Mr Mulcaire's court battle began in May 2010 when Nicola Phillips, an assistant to publicist Max Clifford, launched a civil privacy case against News International - publisher of the now defunct News of the World.
She claimed voicemail messages left by her clients on her mobile phone had been unlawfully hacked and she applied to add Mr Mulcaire as a defendant.
She also applied for a court order that he should provide a witness statement revealing who instructed him to intercept messages.
Judges in the High Court and Appeal Court had earlier ruled Mr Mulcaire could be forced to answer questions about her claim.
Actor Steve Coogan is among others who are pursuing civil damages claims against News International.
Mr Mulcaire said in a statement he would "comply with the Supreme Court ruling to answer questions in Ms Phillips's case".
"I will consider with my lawyers what the wider implications of this judgement are if and when I am asked to answer questions in other cases," he added.
'Research assignments'
Mulcaire was jailed for six months in 2007, together with News of the World royal correspondent Clive Goodman, for his part in accessing messages left for members of the royal household.
At the time he surrendered notebooks to the police containing information about phone hacking.
In July 2011, it was alleged he also hacked into the mobile phone of murdered schoolgirl Milly Dowler.
Later that month, News International closed down the News of the World, after 168 years, as a result of the damning phone-hacking allegations.
In December, Mulcaire was rearrested on suspicion of conspiracy to hack into voicemail messages and perverting the course of justice. He was released on bail pending further inquiries.
Mulcaire was contracted by the News of the World to undertake "research assignments" from, or before, September 2001.