G20 Tomlinson death: PC 'sobs in court'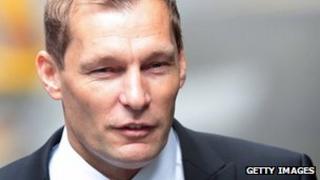 A PC in court accused of killing Ian Tomlinson at the 2009 G20 protests in London has broken down in tears.
Earlier, PC Simon Harwood, 45, of south London, said he was "wrong" to push Mr Tomlinson, 47, but denied manslaughter.
His tears came minutes after his cross-examination, in which the prosecution said he bore "full responsibility" for the newspaper seller's death.
Mr Tomlinson was hit with a baton and shoved to the ground before dying minutes later in the City of London.
PC Harwood told Southwark Crown Court that if he had realised Mr Tomlinson was walking away from police lines at the time he "would not have gone near him".
At the end of a day of questioning, PC Harwood briefly began sobbing. His wife, looking on from the public gallery, also began to cry loudly and had to be comforted by a supporter.
Mr Justice Fulford asked the officer if he was alright to carry on, and PC Harwood breathed deeply before replying that he was.
PC Harwood told investigators in 2009 that his actions had been justified based on the threat officers faced from the crowds.
He denied having a "strike first, ask questions later" mentality and said he had been terrified of the demonstrators.
But cross-examining the officer, Mark Dennis QC suggested to the Met Police officer that he had "made up" this state of mind for his defence.
"When we look at that video, we are not looking at someone who is a greenhorn, attending his first incident of violence," said Mr Dennis.
"No," said the officer.
'Shock at footage'
Mr Dennis asked PC Harwood: "You do now accept that what you did in relation to Mr Tomlinson was wrong?"
PC Harwood replied: "Like I said, now I do, but not at the time."
He went on: "Now I've seen all the evidence and I know how poorly Mr Tomlinson was I'm sorry that I got involved, I shouldn't have hit him with a baton and pushed him."
Looking at a photograph of Mr Tomlinson, who was an alcoholic and slept rough for a number of years, PC Harwood said he would rank him as an eight out of 10, where 10 was a fully fit person.
Mr Tomlinson's family walked out of court as the officer went through a list of his options when he came across the 47-year-old.
He listed using a baton, a push, kicks, punches, CS spray, handcuffs, his voice or firearms.
Mr Dennis asked PC Harwood: "You have to be aware that the person you are dealing with may, for example, have a frailty?"
He replied: "Yes."
Mr Dennis told PC Harwood he had adopted a "strike first, ask questions afterwards" approach.
He then went through footage of the lead-up to PC Harwood's interaction with Mr Tomlinson, asking the officer how he could have believed there was a riot going on near the Royal Exchange Buildings at the time.
PC Harwood said: "That's what I could see, that's what I remember, that's what I believed I was dealing with."
The prosecutor said: "I suggest you're not telling the truth at all when you say 'what I saw at the time', and this is your last line of defence now that you've been caught out on video acting improperly."
PC Harwood replied: "No, I disagree."
The officer said he had a "brief second to assess and react" to Mr Tomlinson.
Prosecutors claim that PC Harwood's "blood was up" after he tried and failed to arrest a protester for scrawling graffiti on a police carrier.
Mr Dennis asked: "Was the blood still up then?"
"I don't remember my blood being up, no, I was acting professionally," PC Harwood replied.
Jurors were shown footage of him shoving another protester minutes before coming across Mr Tomlinson, who he said was obstructing police.
'Always in fear'
Mr Dennis said Harwood could not have been in fear for his safety when he tried to arrest the graffiti protester.
PC Harwood responded: "I'm in fear every time I go to work so that's not strictly true. I'm always in fear when I do my job."
"It didn't feel safe, I was absolutely terrified and just wanted to get away."
PC Harwood added that he had initially not made a note about the force he had used against Mr Tomlinson as he had not remembered the incident.
"I just didn't remember it happening as with other things that happened that day," he told the court.
Earlier, PC Harwood told the jury of his "shock" and "horror" as he watched the footage of his push.
Patrick Gibbs QC, defending, asked the officer what he had then felt.
"Horror, to think it could be me and what it could lead to."
"You looked at it and thought it was you?" asked Mr Gibbs.
"Yes," replied PC Harwood.
"Did you want to believe it was you?"
"No."