Afghanistan killings: Three dead UK soldiers are named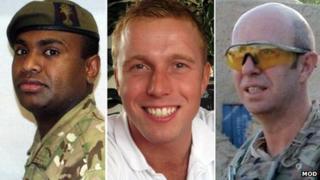 Three British soldiers killed by a policeman in Afghanistan on Sunday have been named by the Ministry of Defence.
They were guardsmen Craig Roderick and Apete Tuisovurua, of the 1st Battalion Welsh Guards, and Warrant Officer Class Two Perran Thomas, of the Royal Corps of Signals.
The soldiers were shot as they left a checkpoint in Helmand province, southern Afghanistan.
The alleged gunman, named as Ziarahman, 25, was injured and later detained.
A second Afghan policeman is also believed to be in custody in connection with the shootings.
Defence Secretary Philip Hammond said the men "gave their lives protecting Britain's national security" and "their efforts will not be in vain and we will always remember them".
The British soldiers were part of a Nato-led Isaf force who have been training Afghan counterparts ahead of a handover of security responsibility by 2014.
The shooting happened at Checkpoint Kamparack Pul in Nahr-e-Saraj, southern Afghanistan, where they were attending a meeting of elders.
The soldiers received first aid but died of their injuries at the scene.
WO2 Thomas, 44, from Ross-on-Wye in Herefordshire, had previously served in Iraq and Northern Ireland.
The MoD said he had been "in the twilight of an exemplary military career".
His stint in Afghanistan had been his final operational tour.
He leaves behind his mother, a younger brother and his partner, Rachel.
In a statement, his family said: "He thrived in extreme environments, both in the military and in his spare time.
"He was a keen climber and mountaineer and will be sorely missed by everyone who had the privilege to have met him."
Guardsman Roderick, 22, from Cardiff, learned bricklaying but is said to have wanted to join the army because he liked to keep fit and wanted to go to Afghanistan.
The MoD said he had "a hugely bright future ahead of him" and there was "no doubt that he would have progressed through the ranks".
He leaves behind his parents, three siblings and a girlfriend, Zoe.
'Everybody liked him'
His family said: "Everyone who knew him will miss his big smile and his sense of humour.
"He was the best son, brother or friend you could have wished for, we were privileged to have known him. He will always be missed and never forgotten."
Fiji-born Guardsman Tuisovurua, 28, was based at Cavalry Barracks, in Hounslow.
The MoD said he would be "remembered among the ranks of the bravest of the brave", adding that "his professionalism, determination and unswerving sense of duty would have carried him far".
He leaves behind his parents and seven siblings.
Lt Col Dino Bossi, Commanding Officer, 1St Battalion Welsh Guards, said: "Guardsman Apete Tuisovurua was a gentle and decent man who was defined by his love of sport, his uplifting company and his willingness to go out of his way to help anyone.
"One of nature's true gentlemen, he had a deeply moral outlook on life and enduring principles by which he lived. Everybody liked him - one could not fail to."
'Second attacker'
Sources told the BBC a fourth British soldier was injured in the shooting but was not seriously hurt.
The Afghan suspect named by police as Ziarahman remains in custody.
He had been a member of the Afghan National Civil Order Police (ANCOP) for nine months, said the head of ANCOP in Helmand, Ghulam Zaki Ghafory.
Ziarahman had been in the province for just over two months, he said.
ANCOP is an elite branch of the regular Afghan police who are supposed to intervene to prevent terrorist attacks, and who undergo strict vetting.
BBC defence correspondent Caroline Wyatt, in Lashkar Gah, the capital of Helmand, says it is now thought a second policeman was involved in the attack. He is also being held for questioning.
She says it looks increasingly likely that it was a planned attack, perhaps by Taliban infiltrators, rather than the actions of a rogue policeman.
'Appalling news'
A British eyewitness said there was no argument before the shooting, our correspondent adds.
But an Afghan police source told the BBC the policeman had fired because he believed his position had come under attack.
Prime Minister David Cameron said on Monday that he was "deeply saddened by the appalling news".
More than 20 foreign personnel have been killed in rogue shootings in Afghanistan this year.
Such shootings are sometimes referred to as "green on blue" attacks.