Data experts could save taxpayers 'billions'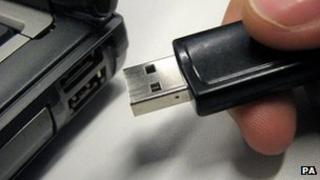 A team of experts should be set up to ensure public data is more effectively used, a think tank has said.
Policy Exchange said better use of data, technology and analytics could help the government save billions by improving efficiency rather than cutting services.
It predicts the "data force" could save taxpayers up to £33bn per year.
A government spokesperson said Whitehall welcomed the report.
The findings will be presented to Cabinet Office minister Francis Maude on Tuesday, when he gives a speech on the issue at the think tank a week after he launched a white paper on open data.
Cutting edge
The 'policy exchange big data opportunity' report says the biggest savings - between £13bn and £22bn - could be cut from day-to-day government running costs and public services by using the most up-to-date analytical techniques.
Up to £8bn a year could be saved by collecting a greater share of unpaid taxes by better identifying cases to be investigated, and up to £3bn a year could be saved by tackling fraudulent benefit claims.
Report author Chris Yiu said: "Extraordinary quantities of data are amassed in the course of running public services - from managing welfare payments... through to issuing passports and driving licences.
"Finding ways to share or link this data together has the potential to save time for citizens and money for taxpayers," he added.
Other changes proposed included scrapping the population census in favour of a virtual one, formed by existing statistics collected for other purposes.
The study also recommends that the Home Office analyses airport queues in real time to anticipate bottlenecks and ensure enough desks are open to cope with fluctuations in passenger numbers.
It wants the government to adopt a "code for responsible analytics" to hold politicians to the highest ethical standards.
Welcoming the report, a Cabinet Office spokesman said: "When this government came into office it very quickly found that there was a total lack of accurate management information.
"Ministers and officials were all too often comparing apples and pears and in fact, as metrics were revised every year, they could not even compare this year's apples with last year's.
"Because we want to ensure government functions like the best-run businesses, we are improving our management information and publishing it transparently to drive up its quality."