London 2012: Heathrow queues too long, says BAA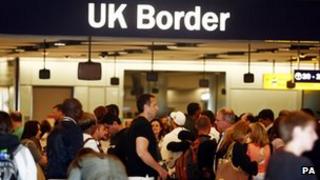 Recent immigration queues at Heathrow have been "unacceptably" long, airport operator BAA has said, ahead of the London 2012 Olympic Games.
It said waiting times peaked at around 90 minutes on Friday morning, which breaches the target time of 45 minutes for non-EU passengers.
But it added this was "nothing like as bad as it was a few months ago".
The UK Border Force said it was "fully prepared for the busy Olympic period", with extra staff due on 15 July.
Criticism of immigration controls, a Home Office responsibility, comes as thousands of athletes and visitors are due to arrive in the capital over the next three weeks.
BAA acknowledged the Home Office's promise that all Border Force desks at Heathrow would be staffed during the busiest hours.
However, it added the force should be "delivering a good experience for regular passengers as well as Olympic visitors".
'Fully prepared'
A BAA spokesman said: "Immigration is a matter for the Home Office. The Home Office has said that from 15 July all Border Force desks at Heathrow will be open during peak arrival periods.
"Immigration waiting times for passengers during peak periods at Heathrow in the last few days have been unacceptably long."
Border Force targets set out to get non-EU passport holders through immigration queues at Heathrow in less than 45 minutes - in 95% of cases.
And the target for EU passport holders arriving at Heathrow is less than 25 minutes, 95% of the time.
Responding to Daily Telegraph reports that passengers faced half-mile queues at Heathrow's Terminal 4 on Friday, a Border Force spokeswoman said the queues had been "less than an hour", and that extra staff were being brought in to deal with waits.
She said: "We are fully prepared for the busy Olympic period and will be implementing our well-rehearsed plans.
"This includes staffing all immigration desks at key ports whenever necessary during the peak Olympic and Paralympic arrivals period."