Police budget cuts 'risk to three forces', HMIC warns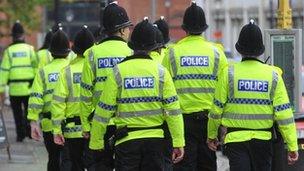 Three police forces may not be able to provide a "sufficiently efficient or effective service" in the future, HM Inspectorate of Constabulary has said.
There would be 5,800 fewer front-line officers across the 43 forces, it said.
Ministers said the "vast majority" were "rising to the challenge of reducing budgets while protecting services".
Met 'of particular concern'
Among the HMIC predictions:
The number of civilian staff doing front-line duties would fall by 2,300 by 2015 compared with five years earlier, in addition to the reductions in front-line officers.
The number of non-front-line officers would fall by 7,600, with the total police workforce expected to shrink by 32,400
Further job cuts could be needed because of a £302m shortfall in police spending plans.
Neither the Met nor Cheshire could provide detailed figures of how the cuts would affect their front lines.
Policing Minister Nick Herbert insisted the proportion of officers on the front line was increasing.
"The number of neighbourhood officers has gone up, crime is down, victim satisfaction is improving and the response to emergency calls is being maintained," he said.
"While there are particular challenges in three forces, we know that the vast majority are rising to the challenge of reducing budgets while protecting service to the public."
HMIC said the Metropolitan Police did not have any plans in place to make savings of £233m and this was of "particular concern".
In a statement, the Met said that it had delivered budget savings of £201m in 2011/12 and planned to deliver £537m by 2015.
But it said it recognised more savings were needed and was "committed to making reductions by considering how we do things differently and prioritising our service to communities".
The report also said plans had been put forward to close 260 front counters in police stations, but that forces planned to open 140 other locations where police would be based in buildings such as supermarkets.
In Devon and Cornwall, the report found there was a £2m budget shortfall, and raised concerns about crime levels. Between December 2010 and December 2011 crime rose by 3%.
HMIC said that because the force had cut costs before 2010, it had found it more difficult than some other forces to find the extra savings required by the spending review.
As a result, plans to balance their books relied to a significant extent on making savings quickly by cutting police officer and staff numbers.
Lincolnshire Police needed to save £21 million between March 2011 and March 2015, but by spring 2012 had only planned how to save 85% of this, and so had more work to do, HMIC said.
In a statement, Lincolshire Police said "relentless efficiency drives and partnership with the private sector" had "seen the leanest force in the country become even leaner".
"However, there remains a budget gap (of over £3m a year) in the years ahead and very limited means remaining to close that gap," it said.
The Association of Chief Police Officers (Acpo) said HMIC's report showed police had "been able to continue to reduce crime and increase public confidence in policing" over the first three years of the cuts.
But it said maintaining performance would become more difficult.
Police Federation chairman Paul McKeever told the BBC that the headlines from the report were "disturbing".
"When I travel around the country speaking to police officers at open meetings, they're already expressing their concerns about the fall in police numbers - the stretch they're actually experiencing and the fears they have for public safety," he said.
Shadow Home Secretary Yvette Cooper told the BBC that the police cuts detailed in the HMIC report were "deeply irresponsible".
"Our view was that the police budget could sustain a reduction of about 12% over a course of a Parliament," she said. "Instead, by going too far and too fast, the government is putting police services at risk - putting communities at risk."
There were 135,838 police officers in September 2011 - 6,012 (4.2%) compared to 141,850 a year earlier.
Related Internet Links
The BBC is not responsible for the content of external sites.