Weddings in England and Wales to be held at any time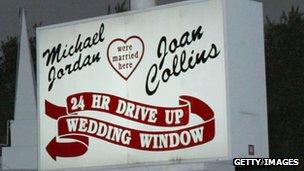 Couples will be able to marry at any time of the day or night in England and Wales from October, officials have said.
Marriages and civil partnerships can currently only be registered between 08:00 and 18:00.
Register General Sarah Rapson said the change in hours would "allow people to make the day unique to them".
Local authorities and religious groups will not be forced to conduct marriages outside the traditional hours.
At least 15 days advance notice will also still be required.
The changes were announced in early 2011 after suggestions to a government consultation. They are being brought in under the Protection Of Freedoms Act 2012 .
There are no restriction on the hours of weddings in Scotland. Any change in timing for Northern Ireland would need to be brought in by the devolved administration.
In 2002, rules in England and Wales were amended to allow ceremonies to take place at sites other than churches, register offices or specially-licensed venues.
Since then the likes of Blackpool Tower, Tower Bridge and race courses have hosted civil weddings.
"Obviously certain times of day have a resonance with people so, for example, my little boy was born at 10 o'clock in the evening and I can understand that that might symbolise some sort of special time.
"But also, lucky numbers - like the number eight is supposed to be lucky so maybe somebody wants to get married at eight o'clock," she said.
"There are some beautiful historic venues that are National Trust properties for example, that are open nine till five to the public and obviously that makes it prohibitive to get married there during the day."
But Ms Southwood said she imagined the "vast majority of people" would still choose to get married during the traditional hours.
Related Internet Links
The BBC is not responsible for the content of external sites.