Theresa May 'planning changes to immigrant test'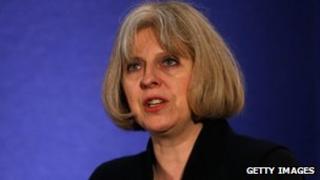 Home Secretary Theresa May is reported to be planning changes to the test taken by foreign nationals who wish to become British citizens.
The Life in the United Kingdom test was introduced by Labour in 2005.
The Sunday Times says immigrants will be told "historically the UK is a Christian country".
The revised version will focus less on the practicalities of daily living in Britain and require more knowledge of British history and achievements.
Inventions and discoveries
The paper says immigrants will also have to learn the first verse of the national anthem before they can become UK citizens.
Mrs May is understood to have scrapped sections of the test which dealt with claiming benefits and the Human Rights Act.
Instead potential immigrants will be expected to learn about Byron, the Duke of Wellington, Shakespeare and other historical and cultural figures.
The new version of the handbook, expected to be issued in the autumn, will include sections about key battles, such as Trafalgar, and British inventions and discoveries.
A Home Office spokesperson told the BBC: "Putting our culture and history at the heart of the citizenship test will help ensure those permanently settling can understand British life allowing them to properly integrate into our society."
The handbook is the basis of a 45-minute test which potential citizens can take at one of 90 centres around the UK.
Sultana Razia, who came to the UK from Bangladesh five years ago, has already failed the test once in her quest to become a British citizen.
"If you want to live here, you have to know all the information - all the rules and the way of living here and the culture here," she told BBC News.
"The test is important, it's quite hard but it's important."
Alp Mehmet, vice chairman of the Migration Watch think tank, welcomed the planned changes.
"People are almost encouraged to see what they can get out of the country rather than what they can contribute," he told BBC News.
"And I think that the emphasis moving towards people having an understanding of the country they're joining effectively - becoming citizens of - is absolutely right."
But Habib Mirza, who runs citizenship courses at BSGS College, in Whitechapel, east London, said proposed changes would represent "a massive barrier for anybody who wants to settle down in the United Kingdom, the vast majority of whom cannot speak English anyway".
"People who do speak English, who are born and brought up here, we would find it very, very difficult to pass so how will they pass?"
And he said asking people from non-Christian backgrounds to learn the National Anthem "might be against their religious beliefs, it might be against their personal beliefs" and it was therefore "unfair".