EU tyre labels start being rolled out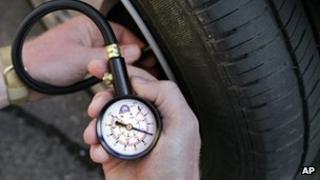 New tyres will start to be sold with a label attached to them which is intended to help guide drivers on how safe, fuel efficient and loud they are.
There are currently about 300 different brands of tyre on sale in the UK, and they vary widely in how well they perform on the road.
An EU law means manufacturers will have to start fitting the colour-coded stickers - similar to those found on new fridges - in a bid to help drivers.
They become compulsory in November.
The labels will start appearing from 1 July but retailers have until November to make sure they are stuck onto every new tyre.
BBC transport correspondent Richard Westcott said the choice of tyres was bewildering to many motorists.
Our correspondent said: "Your tyres are the only thing connecting you and a tonne of metal to the road, yet many drivers have no idea which type to pick when they need changing."
The new sticker are designed to grade:
How good the tyre is at stopping in the wet
How fuel efficient they are
How much noise the tyres make
Our correspondent said: "The safest tyres will stop you three car lengths quicker than the worst performers.
"While the best performers on fuel efficiency could save consumer nearly £100 a year on your fuel bill."