Labour lifts Lord Ahmed's suspension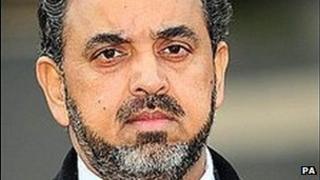 A peer suspended by the Labour Party for allegedly offering a £10m bounty on the head of US President Barack Obama has had the suspension lifted.
Lord Ahmed, who denied the accusations published in a Pakistani newspaper the Express Tribune, thanked Chief Whip Lord Bassam for a "fair" investigation.
Labour confirmed the suspension had been lifted but did not explain why.
His alleged remarks followed reports the US offered $10m for the conviction of a Pakistani-based militant leader.
The supposed bounty was said to be for information leading to the arrest and conviction of Hafiz Saeed, the founder of militant group Lashkar-e-Taiba.
The Indian government blames Mr Saeed and his organisation for carrying out several militant attacks on its territory, including the 2008 Mumbai shootings which left 165 dead plus nine of the 10 gunmen.
'Shocked and horrified'
Lord Ahmed said he was "delighted" the suspension had been lifted as he had been a member of the Labour Party for 34 years.
He told BBC Asian Network said his colleagues in the Lords had been "very sympathetic" while the suspension was in place.
The story was "lies" and he said he was considering taking legal action against the Express Tribune newspaper, he added.
In April this year the Express Tribune quoted Lord Ahmed saying: "If the US can announce a reward of $10m for the captor of Hafiz Saeed, I can announce a bounty of £10m on President Obama and his predecessor George Bush."
They later corrected the article.
In response to the article, Lord Ahmed said: "I'm shocked and horrified that this whole story could be just made up of lies.
"I never mentioned President Obama, I never mentioned the word bounty.
"It was a discussion about people investing in Pakistan and yes, I did talk about illegal wars in Iraq and Afghanistan and Bush and Blair involved in it.
"But I did not mention any bounty or President Obama and the sort of rubbish that's been on the media."
A Labour Party spokesperson said "Lord Ahmed is no longer suspended from the Labour Party" but would not expand on that statement.