Escaped murderer John Massey captured in Kent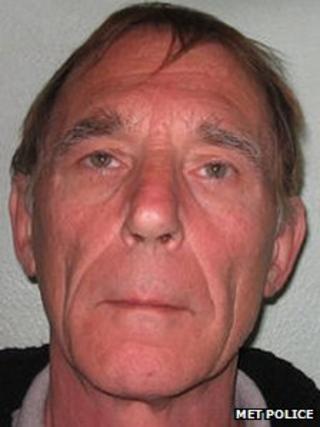 Convicted murderer John Massey, who escaped from Pentonville prison in north London on Wednesday has been arrested in Kent, police have said.
Massey, 64, was arrested at an address in Faversham at 17:15 BST following "an intelligence-led operation," a Metropolitan Police statement said.
He has been taken into custody at a north London police station.
It is thought Massey hid in the prison gym and went onto the roof before scaling the wall using netting.
A second man at the Faversham address was arrested on suspicion of aiding and abetting an absconder and was also taken into police custody, Scotland Yard added.
Massey - serving life for a 1975 pub murder - was reported missing at 18:30 BST on Wednesday.
It is thought he used discarded netting, which may have been used for a sports activity, to fashion the makeshift rope.
The Ministry of Justice has launched an investigation into the escape.
Massey - one of the UK's longest-serving prisoners - was convicted of shooting dead a man with a sawn-off shotgun at The Cricketers in Clapton, east London.
The BBC News website understands that Massey had previously escaped from Coldingley prison in Surrey in April 1994, and was subsequently reported to be living in Spain before being returned to prison.
Massey was released on parole in June 2007 - after spending the previous 18 months in an open prison in Derbyshire - and ordered to live in a bail hostel in Streatham, south London.
But he broke his curfew after a few months to go and live with his dying father and, after a number of days, was recalled to prison.
After two-and-half years, he was sent to Ford open prison, in West Sussex, from where he absconded.
He was arrested 10 months later and taken to Pentonville before Wednesday's escape.