England riots: Jailed men reflect on 'daftest mistake' of lives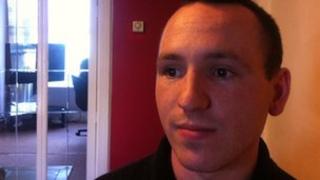 As the first anniversary of the England riots approaches, three men who were jailed for their parts in the disorder reflect on their punishment and the impact it has had on their lives.
"That was my first time in trouble with the police. I was the only man in my family that hadn't been to prison - it was something to be proud of," says 22-year-old Aaron Grima, who was arrested on the hot night of 9 August.
By his account, he went out to watch after hearing reports the riots had reached Manchester. But he put on a balaclava to hide his identity, and when the police charged - he ran. He was arrested after a scuffle and pleaded guilty to assaulting a police officer. He was given a four-month sentence.
Sitting at the dining-room table in his mother's small Victorian terrace in a quiet street in Eccles, clutching a mug of tea, his eyes widen in bewilderment - at his own behaviour.
"It's one of the daftest mistakes of my life," he says. "But obviously I've got to learn from it. I do regret it but I can't be stuck in the past."
Grima recalls hours lying in his prison cell, deep in thought.
"You think about all your life: what you're going to do when you get out, what you did before it. You wonder if people are thinking about you. Obviously, the thing that worried me most was my job. If you've got no job, then what are you going to do? I thought: 'I've been in prison, it's going to be even harder to get a job.'"
Violence and solitude
The night Aaron Grima was arrested, 18-year-old Jake (not his real name) was also on the streets of Manchester. He says he was merely caught up in the riots but admits verbally abusing a policeman, for which he received a 112-day custodial sentence.
"On my wing, most of the people were rioters. Most of them were standard idiots who were there for the riots, to loot whatever they could. For the first week or so they were quiet but then the mood went back to normal. They were all against the police," he said.
For Jake, this too was his first time in prison. His most vivid impressions are of violence and solitude.
"But the thing that will keep me away from jail in the future is how much you miss your family," he says.
August riots: Regional breakdown of court appearances
72%

London

11%

West Midlands

2%

Nottingham

8%

Greater Manchester

3%

Merseyside

4%

Other
Court snapshot
3,051

Appeared in court up to 8 June

Of those...

53%

Under-18s

89%

Male

65%

Sentenced

20%

On remand

15%

Dismissed/Acquitted

Source: Ministry of Justice, June 2012
According to the latest Ministry of Justice data, released this week, 1,292 people have been sent to prison so far - many for the first time.
Jake and Aaron are both young men, like most of those brought before the courts after the riots. A smaller group, 6%, were aged 40 and over. One of those was 40-year-old Aston Walker, a father of three teenage children and an independent film-maker who has won awards at the Black International Film Festival in Birmingham.
"When I got arrested, I literally went limp. The seriousness of what I'd done just sort of hit me," he says. "It's like, you're a moron, you're an idiot, you've done something really stupid."
He had gone into central Birmingham in the small hours of 10 August to film the desolation after a night of rioting. But a smashed shop window proved a fatal temptation. He helped himself to hundreds of pounds worth of clothes, and 10 minutes later was wearing handcuffs.
'Shame and embarrassment'
When it came to trial, the judge declared it was a "sad case" before handing down a four-month sentence. Walker is another first-time offender but refuses to feel sorry for himself.
"I hadn't been in trouble with the police before at that level. But I'm no angel. I'd been involved in petty crime since I was 15 - theft, drugs, etc. When I got sentenced I thought this is right, proper and fair."
Walker praises the probation service for helping him "confront my offending behaviour". But he says the more brutal elements of prison life, razor wire and the psychological terror of being incarcerated - also concentrated his mind.
He says the overarching thing was "shame and embarrassment", which led him to refuse visitors, even his family.
"When you receive visitors they've got to be searched and it's all quite humiliating. I didn't want to burden them with that sort of thing. But the kids are very loyal. When I asked how they felt, I didn't hear a single negative sentiment."
Since leaving prison Walker has resumed making films - including an 80-minute feature film for SIFA fireside, a Birmingham homeless charity - but is struggling to find paid work or employment.
"Obviously I have to declare that I've got a criminal record. I can't pass a CRB check. So now I'm fired up to start a business, maybe doing workshops on film-making and scriptwriting. I'm just hoping to get off the dole and be self-sufficient."
Jake has been more fortunate.
"In a way, I would go back and change everything. But in a way it's put me in a better place," he says. "It's matured me. I've moved out of my mum's. And I've got a better job - my old boss just swore at me down the phone, but now I'm a manager at a charity."
Aaron Grima was also lucky. One day while he was in prison, he received a letter from a friend saying his old job would be there waiting for him. He left prison on a Friday afternoon and was back at his factory on the Monday morning. But still, he reflects, he has damaged his life chances.
"I want a career. I went to college doing A-level sport and I was thinking of being a sports teacher. I can't work with kids now - it's made me have fewer options but I can't think like that. You've always got to try."
Listen to the full reports on World at One on 2 and 3 July at 13:00 BST on BBC Radio 4.