Olympic torch: Security team gains fame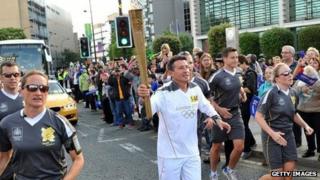 If you're one of the five million people who has been out to see the Olympic torch relay in the past seven weeks, you'll be familiar with the men and women in grey running kit who travel with the Olympic flame wherever it goes.
Move aside the Men in Black, it's all about the Guys in Grey.
Officially they're known as the Torch Security Team (TST) and they have gained quite a following as they accompany the torch on its 8,000-mile relay around the UK.
On the road, it's quite clear they are in charge - pushing back local marshals, G4S security officers, or even the occasional uniformed bobby who gets too close to the flame.
But who are they?
Torch 'bubble'
The Metropolitan Police Service (MPS) has taken responsibility for the TST as traditionally the Olympics host city's police force provides torch security.
The TST has a staff of 70 unarmed officers, all doing a range of jobs, but it is the 35 "runners" who are the most noticeable despite their demure attire.
They create a security "bubble" around each torchbearer, armed with just a radio and, during sunny periods, their regulation sunglasses.
"We don't want to look too imposing, so we try to keep [the number of runners] as minimal as possible but if the risk is increased we will send more out," said PC Victoria Walker, whose day job is as a Safer Transport Patrol Officer in London's borough of Haringey.
"If anyone of any age threatens the security of the flame or torchbearer, we need to move that threat away quickly."
The runners were whittled down from an initial 664 applicants in an eight month selection process.
They then underwent a gruelling 18 months of training to make them fit enough to run up to 20 miles a day, while managing the relay torchbearers and crowds.
Overnight 'flamettes'
Aged from 26 to 50, runners' day jobs vary from homicide command and domestic violence to aviation security and transport patrol.
They are tasked with ensuring the continuity of the Olympic flame, so as well as running alongside torchbearers, so-called "flamettes" protect a mother flame in a lantern during the day, while officers take turns to sleep with it in their rooms overnight.
Not everyone has been impressed by the security surrounding the torch relay, with some grumbling about "overkill".
"We've seen seven or eight buses of police, as well as cars and motorbikes," said a grandmother-of-two who gave her name only as Sylvia, as she waited for the torch in Northampton earlier this week. "Anyone would think we were football hooligans!"
Praise for the runners, however, has been as uniform as their grey outfits - as shown by the comments on their facebook page .
They are more likely to be seen clapping on torchbearers or smiling at young spectators than shoving back the crowds.
So attached have the TST been to the torchbearers that officers readily admit shedding a tear during emotional moments like the stints of Mia Rathband , injured soldier Lance Bombardier Ben Parkinson or Parksinon's sufferer Andy Seward .
Runner PC Kevin Tonkinson said the highlight of the relay for him so far had been the schoolchildren who have come out to line the route in their thousands.
"They love it and we love that," said the 38-year-old known to his bbctorchcam fans as Knee-brace Nige because of a support he has worn when running.
"The people have been fantastic - they've reaffirmed my belief in the communities of Great Britain."
Normally based in Hackney where he responds to emergency calls, PC Tonkinson laughed when asked how his legs were holding up.
"I've got shin splints and a calf strain, but I see the physiotherapist lots so it's fine!"
Lucky charm?
The torch relay has not been without incident: A man who tried to throw a bucket of water on the torch in Leeds was charged with a public order offence .
Also in Leeds, Italian restaurant owner Gilda Porcelli was pushed aside as she attempted to touch the torch to bring luck to her home nation at the Euro 2012 football championships.
And two boys in Coventry were ushered away after they evaded the TST cordon to momentarily grab hold of the torch.
But one of the TST's two tactical commanders, Ch Insp Andy Mariner, said there had been just three arrests so far.
By contrast, during the torch relay for the 2008 Beijing Games , 37 arrests were made after clashes between pro-Tibet protesters and police as the Olympic flame made its way through London - with one protester trying to snatch the torch from former Blue Peter host Konnie Huq.
Ch Insp Mariner, who was escorting Miss Huq that day, said the TST's discreet security operation was a far cry from the Beijing relay.
Beijing's multi-national torch relay had been an exercise in "soft-power" that backfired in dramatic style, said Prof Simon Chadwick, chairman of Sport Business Strategy and Marketing at Coventry University.
"The British torch relay has been more about community and locality, not about exhibiting or exerting global power," he told the BBC.
"Relative to 2008, this has been a much more focused, more carefully executed, more modest and probably more effective torch relay."
'Make my day'
While there is no room for complacency there is less potential for protest because of the UK's civil rights position, said Dr Steve Musson, a lecturer in Political and Economic Geography at the University of Reading.
"Torch relay security is almost a non-story because it's so low-profile. And perhaps that's how it's meant to be," he said.
Instead, the police presence has subtly been transformed into appearing more as cheerleaders than torch-defenders, with even the motorbike police getting in on the crowd interaction.
Ch Insp Mariner said police high-fiving spectators hadn't been in the security game-plan at the relay's start, but quickly became part of the TST's role as the torch progressed.
And the atmosphere and crowds surrounding the relay have almost eclipsed the torch itself.
Five-year-old Harrison Barnes was excited to see the torch pass through Alloa. But, said his dad Chris: "The standout point for him was receiving a high-five from a police motorcyclist. It made his day."