Ex-NHS chief Gary Walker 'being gagged'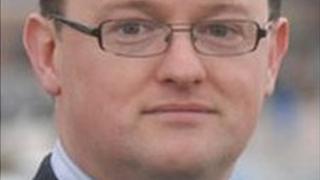 The former head of an NHS Trust has been paid more than £500,000, including legal costs, as part of a severance deal which also stops him discussing patient safety, the BBC has learned.
Gary Walker was sacked as chief executive of the United Lincolnshire Hospitals Trust in February 2010.
He dropped a claim for unfair dismissal in a deal with the NHS. Supporters say he has been bound by a "super gag".
The Trust said all parties in the case had reached an amicable resolution.
The official reason for his dismissal from the £140,000-a-year post was that he swore openly at meetings, but supporters have alleged this was a trumped-up charge.
Non-urgent cases
Prior to his dismissal, Mr Walker had a serious disagreement with his superiors over the direction of health policies in Lincolnshire.
BBC correspondent Andrew Hosken said that, essentially, Mr Walker had disobeyed an order from his superiors to focus his efforts on official government targets for non-urgent medical cases.
David Bowles was chairman of the United Lincolnshire Trust but also resigned in 2009 over NHS targets. He said he believed the dispute was about safe care.
"For whatever reasons, the demand for services in Lincolnshire had gone through the roof," he said.
"Faced with that surge, you have a choice - you can either treat your emergency patients safely and delay your non-emergency patients, or you give priority to the non-emergency patients to meet the target and then the emergency patients suffer."
Employment tribunal
The entire trust board had made it clear in June 2009 that it was not prepared to give guarantees and assurances on meeting the non-urgent targets, he said.
In April 2011, an employment tribunal in Nottingham was to hear Mr Walker's claim for unfair dismissal.
The tribunal judge had already found prima facie evidence that the former chief executive had made a disclosure which was protected under whistle-blowing law when he made clear his concerns over patient safety.
Before the tribunal was due, the trust made a deal with Mr Walker which it described as amicable. His supporters say he had to sign or lose his house.
Documents seen by the BBC indicate that Mr Walker signed a compromise agreement which included a payment of £320,000 and a confidentiality clause.
The clause prevents him talking about the agreement and the issues behind his dismissal, which his supporters say are in the public interest.
Mr Bowles is clear that the pay-off came with a "super gag".
"The thing which really shocked me is that I and all the other witnesses who would have been appearing at the employment tribunal received gagging letters as well," he said.
Conservative MP Stephen Phillips has written to the Health Secretary Andrew Lansley asking for all documents relating to the issue to be released.
'Very worrying development'
The MP for Sleaford and North Hykeham said it was "worrying" that those who could have been forcing the trust to follow those targets could still be within the health service.
"If you couple that with the allegations of bullying - which we don't fully know about, which we haven't fully been able to get to the bottom of - that is a very worrying development," he said.
"I want to know if patient safety was put at risk because if it was - not withstanding they have been abolished - we have to make sure these (targets) never come back."
In a statement, the United Lincolnshire Hospitals Trust said all parties had reached an amicable resolution and all those involved had moved on.
It added that patient safety was always a top priority and said that this was reflected in its current performance.