Deaths on Britain's roads rose 3% in 2011, figures show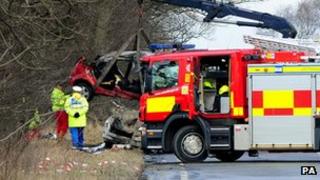 The number of people killed on Britain's roads rose by nearly 3% last year, the first increase in almost a decade, government figures indicate.
Based on police reports, 1,901 people died in 2011, compared with 1,850 in 2010. The number of deaths had been falling since 2003.
Transport minister Mike Penning called the figures disappointing, and said safety "is a top priority".
Road charity Brake said the increase in deaths was "unacceptable and shameful".
According to the figures, 46% of the 1,901 people killed in road accidents in 2011 were in cars, 24% were pedestrians and 19% motorcyclists. Five percent of those killed were cyclists, with the remainder killed in buses, coaches and lorries.
The number of pedestrian deaths was 12% higher in 2011, compared with 2010, with 453 people killed.
But the Department for Transport says this should be seen against a general downward trend since the 1970s.
Speaking in the House of Commons, Transport Secretary Justine Greening said "exceptional weather" at the beginning and end of 2010 may have contributed to the increase in deaths.
But she told MPs: "As far as I am concerned, one accident is too many.
"We are obviously concerned to make sure we improve our road safety record."
But Kevin Clinton of the safety charity Rospa said the rise in the number of deaths was disturbing.
'Unimaginable suffering'
"After a long period of deaths falling year on year, we are very disturbed that they have risen, particularly among children and pedestrians.
"RoSPA is concerned that reduced public spending on road safety, especially cuts to local authority and road policing budgets, may be partly to blame."
Campaigners have questioned whether the coalition government's decision to drop road safety targets in May 2011 could be to blame for the reported increase in deaths.
Ministers have dropped targets for reducing casualties and funding for speed cameras, and put education and enforcement in their place.
The road safety charity Brake wants targets reintroduced, and calls for the government to prioritise 20mph limits, lower the drink-driving limit and do more to help young drivers build up their skills.
Brake's deputy chief executive Julie Townsend said "greater ambition" was needed to bring casualties down.
"It is unacceptable and shameful that after years of progress in road safety and consistent casualty reductions, we are now seeing an increase in people dying and being maimed on our roads.
"These violent deaths and injuries cause unimaginable suffering, they are a costly drain on health and emergency services, and yet they are preventable," she said.
Shadow transport minister Jim Fitzpatrick told MPs the government should reverse its decision to scrap targets.
"Road casualty reduction targets commanded cross-party support for nearly three decades and played a big part in sending a strong message from government about how committed it was to reducing deaths and serious injuries on the road," he said.
Transport minister Mike Penning said: "Any road death or injury is a tragedy and I will continue to take urgent action to crack down on the most dangerous drivers while improving the training to make our roads safer for everyone."
The Association of Chief Police Officers' (Acpo) lead for roads policing, Dep Chief Constable Suzette Davenport, admitted more could be done to make roads safer.
"We will focus on an intelligence lead approach to ensure appropriate enforcement, education and engineering which all help to influence driver behaviour, and help to reduce the number of people killed or seriously injured on our roads," she said.