HM Revenue and Customs staff striking over job cuts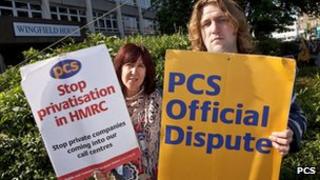 Up to 44,000 Revenue and Customs (HMRC) staff are striking over job cuts and "creeping privatisation", the PCS union has said.
The Public and Commercial Services union said between 75% and 80% of its 55,000 HMRC members were on strike, closing some face-to-face tax offices.
Members are protesting about plans to cut 10,000 HMRC posts by 2014/2015.
HMRC said it was too early to say how many staff were on strike but that it was not yet aware of any disruption.
The union says a lack of resources means billions in tax is lost annually through evasion and avoidance and the "massive cuts" will make things worse.
HMRC says it is on target to increase its tax take from compliance work and is "disappointed" by the strike.
A spokesman for the PCS - which says it represents more than three-quarters of HMRC staff - told the BBC News website that members had manned picket lines at tax offices up and down the country on Monday morning.
He said that, where face-to-face offices were open, they were being run by skeleton staff and that "no real service" was being provided.
He said the PCS did not yet have specific numbers for offices that had been closed or disrupted.
"We're pleased with the support we've got but it's no surprise the turn-out is so high as morale in the department is rock bottom," he added.
"Cuts coming down the track will make the situation far worse."
Recorded messages on HMRC helplines advise members of the public to call back later in the week because of a possible backlog caused by the industrial action.
Ahead of the strike, HMRC said it had sought dialogue with the PCS "to address their concerns and will work to minimise any disruption to our customers".
"In our 2010 spending review the government made £917m available to us to tackle avoidance, evasion and fraud. This is being used to increase our tax take from compliance work by £7bn a year in 2014/15 which we are on target to do."
Meanwhile, the leader of Britain's biggest union Unite has told the BBC that more strikes and industrial action are inevitable.
Len McCluskey said the action could continue "for the next few years".
'Off the hook'
The PCS said the latest plans for job cuts follow about 30,000 job losses since the department was formed in 2005.
In May, the Public Accounts Committee said an additional £1.1bn in potential tax revenue could have been collected over the previous five years if compliance and enforcement staffing levels had not been cut.
PCS general secretary Mark Serwotka said the case for investment in public services "could not be more obvious than it is at the HMRC".
"Yet the government wants to cut 10,000 more jobs from the department, letting the wealthy tax dodgers off the hook and punishing the rest of us for a recession we did not cause," he said.
The union says it is also opposed to year-long trials using private companies to handle tax credit enquiries at two centres in Lillyhall, Cumbria, and Bathgate, West Lothian.
Mr Serwotka has described it as "creeping privatisation" in HMRC.
He said the strike will be followed by other forms of action such as a ban on overtime.
PCS members were among tens of thousands of public sector workers who joined a 24-hour UK-wide strike on 10 May over government changes to pensions.