Syria's Olympics chief denied visa for London Games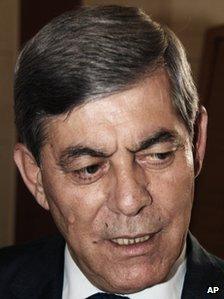 The head of the Syrian Olympic Committee, General Mowaffak Joumaa, has been refused a visa to travel to London for the Games, the BBC has learned.
It is understood to be because of links to President Bashar al-Assad's regime, whose violent crackdown on democracy activists has been condemned worldwide.
The decision was made in recent days by Home Office, Foreign Office and Department of Culture officials.
The International Olympic Committee is expected to ratify the decision.
"While not unexpected it will still be hugely controversial this, that the British government has decided to refuse his application," said BBC sports editor David Bond.
The board of senior government officials had been assessing Gen Joumaa's application for a while and had reached a decision in the last few days, our correspondent said.
After being informed of the government's decision earlier on Friday, it is the London Games organisers Locog that must now notify the International Olympic Committee (IOC), which has the final say.
Our correspondent said that while the IOC can be "very, very protective of these sorts of issues where politics and sports collide", it was "extremely unlikely" to go against the UK government's ruling.
The IOC has confirmed it has been told informally about the travel ban, and a spokesman told the BBC: "At this stage we have not yet received any official approach on this issue and it would be premature to comment on any individual cases."
'Oppression and brutality'
There has been widespread international condemnation of the Assad regime's violent crackdown on pro-democracy protesters.
The UN says at least 10,000 people have died in Syria since the uprising began in March 2011.
After the massacre of more than 100 unarmed men, women and children in the town of Houla in May this year, the British government suggested members of the Assad regime could be banned from the Games.
Foreign Secretary William Hague said at the time he was "absolutely sickened" by the deaths, which "shine a light to the whole world on the oppression and brutality of the regime".
Syrian officials denied army involvement in the massacre, blaming terrorist groups they say have killed more than 6,000 civilians in the months of violence.
Earlier this week, US President Barack Obama and Russian President Vladimir Putin issued a joint statment calling for an immediate end to violence in Syria.
Russia and China have twice blocked US-backed UN draft resolutions critical of the Syrian government.