Newspaper review: Papers criticise doctors' strike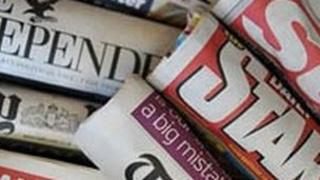 Doctors taking industrial action may wish to avoid the papers this morning.
The Times calls it a "tantrum" claiming a doctor on £120,000 a year can retire at 60 with an annual pension of £48,000, plus a lump sum of £140,000.
The sums, says the paper, "provoke little pity among their patients".
The Daily Telegraph's front page says support for the strike is "crumbling" with a survey suggesting that two-thirds of GPs' surgeries will open as normal.
'Ill-advised'
There's also a lack of support in the tabloids.
The Daily Mirror calls the industrial action "ill-advised", saying: "Most ordinary people can only dream of a doctor's pension."
The Daily Express says ever since the BMA "ran rings round the Labour government", doctors have neither been "underpaid nor under-pensioned".
The Daily Mail says pension contributions for doctors cost the taxpayer £67bn.
'Leftie'
The case of Julian Assange, who is seeking asylum at Ecuador's assembly in London, is covered widely.
Robert Colville in the Daily Telegraph says he's a "leftie of the worst sort". "Not since Lembit Opik was stretchered out of a wrestling ring, has a public figure connived so enthusiastically in his own destruction," he writes.
In the Independent, Joan Smith calls him a "fabulist". "Someone who stretches and distorts the truth to make himself look exciting" to his diminishing band of followers.
Ukraine appeal
With three days until England's quarter-final against Italy in Euro 2012, the Times says that, suddenly, "Everyone's making plans for a last-minute weekend break in Kiev."
The holiday company, Thomson, has sold out of day-trip packages to the game.
The Daily Mail features Alex Mitchell, who died in 1975 after, apparently, laughing too hard at the Goodies on tv.
Almost 40 years on, doctors now believe he was killed by a hereditary heart condition and not the comedians.