Aung San Suu Kyi 'wants to lead Burma people'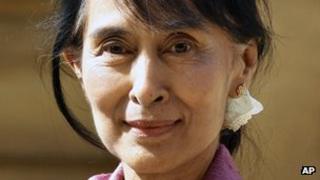 Burmese opposition leader Aung San Suu Kyi has confirmed her desire to lead the Burmese people - "if I can lead them in the right way".
But in an interview with the BBC's Newsnight programme, she said her struggle had been worthwhile in itself.
On the first day of a UK tour, she visited the BBC World Service and took part in a debate at the London School of Economics.
It is part of a two-week tour of Europe - her first overseas trip since 1988.
The pro-democracy leader was freed from more than two decades of house arrest in late 2010.
Burma's military-backed civilian government has started a series of reforms to open up the country.
No 'confidence trick'
Ms Suu Kyi's wide-ranging interview with the BBC covered Burma's ethnic conflicts, political reform and foreign investment.
She warned foreign companies investing in Burma - also known as Myanmar - that they would be monitored and exposed if they did not behave in a "democracy-friendly, human rights-friendly" way and follow "best practices".
"And if they are not such companies and if they are doing business with cronies and with those who will use their new economic powers to consolidate the grip of the government, then I think we'll have to expose them," she said.
She refused to accept she had been the victim of a "confidence trick" geared at getting sanctions on Burma lifted.
But she added the democracy movement in Burma had to depend on "our own resources to bring about change than to depend too much on external factors".
Ms Suu Kyi said the only way for Burma to achieve a "true union" would be to try to fulfil the aspirations for autonomy of its ethnic nationalities.
'Not the only one'
However, she said, during "our years of struggle, we have experienced how strong the unity between the ethnic nationalities can be, because our best and most reliable allies were the ethnic nationality parties".
On the remaining political prisoners in Burma, Ms Suu Kyi said 271 remained in custody and she had heard there would be a move to release more soon.
Asked whether her sacrifice would have been worth it if Burma did not achieve full democracy, Ms Suu Kyi said "the victory in some ways is in the endeavour".
"I'm not the only one working for democracy in Burma - there are so many people who have worked for it because they believe that this is the only way we can maintain the dignity of our people," she said.
But asked whether, following elections scheduled for 2015, she wanted to lead the Burmese people, she responded: "If I can lead them in the right way, yes."
'Sad' about World Service
Ms Suu Kyi's schedule on Tuesday - her 67th birthday - involved a visit to BBC World Service staff at the new Broadcasting House in central London.
"Because of the BBC, I never lost touch with my people, with the movement for democracy in Burma and with the rest of the world. For that, I would like to thank all of you very sincerely," she said.
But Ms Suu Kyi also said she was "a little sad" about changes to programming on the World Service.
"I feel that the BBC World Service is not as versatile as it used to be - or perhaps I'm not listening at the right times," she said.
"There used to be so many different programmes, and every time I listen to it now, it's news and commentaries. I miss the other old programmes... Bookshelf, Just a Minute, and so many others which I don't seem to hear now...
"It's not what it used to be," she said.
During her four-day tour of the UK, Ms Suu Kyi is due to meet members of the Royal Family and address the UK Parliament.
The interview with Aung Sang Suu Kyi will be broadcast on Newsnight on BBC2 on Tuesday evening at 22:30 BST.