Trial flights of 'unmanned' aircraft begin in UK skies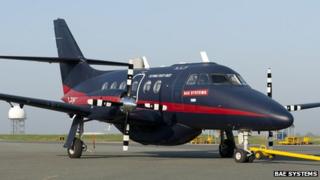 Test flights have begun to see whether unmanned aircraft could someday be of widespread use in British airspace.
The BAE Systems Jetstream, which will be manned during the test phase, could potentially conduct search missions and investigate weather systems.
BAE believes the aircraft is the first of its kind to autonomously "sense and avoid" bad weather and mid-air hazards.
The British Airline Pilots Association (Balpa) said "issues" must be resolved to ensure all airspace users are safe.
Unmanned planes or "drones" are already used in the UK for surveillance work.
Electronic eye
During up to 20 test flights over the Irish Sea, a pilot and co-pilot will be responsible for the Jetstream's take-offs and landings.
Also aboard will be three people observing and testing the technology - however, the aircraft will fly as if it were an Uninhabited Air Vehicle (UAV).
The new technology - which is far more advanced than a standard passenger aircraft - has been developed by Astraea, a £60m UK industry-led programme which has been running for about six years.
Astraea are funded in part by the Technology Strategy Board, which is sponsored by the Department of Business, Innovation and Skills.
BAE says the Astraea system can detect and avoid bad weather systems using an "electronic eye" - a cockpit camera linked to the aircraft's internal computer systems.
The system can recognise cloud types and autonomously plot a course to avoid bad weather.
The electronic eye is also used in conjunction with an aircraft identification antenna to "sense and avoid" mid-air collisions.
Infra-red technology on the underside of the aircraft should also help the Jetstream find a safe place to land in the event of an emergency.
Lambert Dopping-Hepenstal, BAE's engineering director with responsibility for the Astraea programme, said: "The [aircraft] has been configured as a 'surrogate UAV', where the onboard pilots can take their hands off the controls and hand over control to the on-board system developed by the Astraea team.
"Racks of computers and control systems in the rear of the aircraft mean it can fly as if it were [unmanned] without any input from the pilots.
"The weather avoidance system will use sophisticated image processing techniques to detect and avoid clouds and is just one of the new capabilities being tested."
'Eyes and ears'
If trials are successful, BAE has said the aircraft could become the first "surrogate" UAV to fly in "normal" UK shared civilian airspace.
The testing has been cautiously welcomed by Balpa, who say they are not entirely opposed to the development of unmanned flight technology.
Capt Mark Searle, Balpa chairman, said: "The most important safety system that we currently have on board aircraft is the eyes and ears of well-trained pilots.
"Such technology... could offer benefits for manned aircraft operations as well, but there are issues which must be resolved first in order to ensure safety for all airspace users."
Mr Searle added that the biggest hurdle to the use of any unmanned aircraft is the public perception of them.
"The public like to be assured when flying that there are capable, professional, well-trained pilots in command. We can not see this changing any time soon."
Opponents of the growing use of drones are concerned the public are not being consulted on the rapidly advancing technology and the potential changes on the use of UK airspace.
Chris Cole, from the Drone Wars UK website, which follows the use of armed drones, told the BBC: "There is no parliamentary or public consultation in the UK on this and I believe there is a huge amount of public scepticism.
"The defence industry is part of the Astraea project. They are working with defence companies to see what changes need to be made to airspace regulation to ensure these drones fly safety in the UK.
"There is a big difference between remotely controlled surveillance drones and autonomous drone flights. This is a huge step forward and it is happening too quickly."
BAE's Simon Shrouder estimates that pilotless aircraft could be used within three to five years to investigate weather systems or natural disasters, such as volcanic ash clouds.
He added: "UAV flights could soon be used to do the dull, dirty or dangerous work, that will not put pilot's lives at risk."
Mr Shrouder added however, that pilotless passenger flights are still far from becoming reality.
"In years to come, it might be that confidence is so great that there is scope for passengers to be carried on these flights - but that is many, many years off."